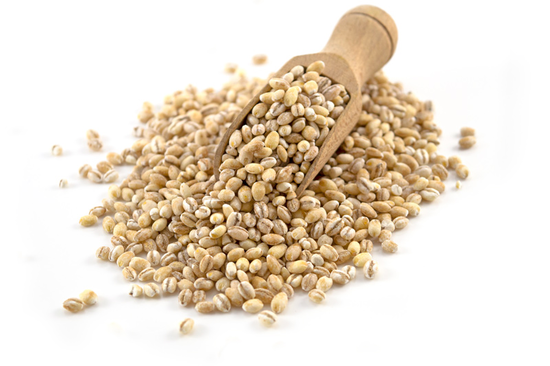 Last Batch 103719 Produced on Wed 29 Jun 2022 10:06. Best before End Apr 2023. Organic produce of United Kingdom. Packed in the UK.
Organic Pot Barley 1kg (Sussex Wholefoods)
Organic Barley 1kg
Organic produce.
100% wholegrain barley (with bran).
High in protein and low in fat.
Fuller flavour than wheat grain.
No preservatives.
Can be ground into flour.
Packed in Sussex.
1kg pack.
These short, stubby grains add texture, flavour and fibre to soups and stews. Pot barley can also be cooked and served just like brown rice.
Pot Barley retains the outer bran, unlike Pearl Barley. The outer bran offers a great nutritional profile including fibre, omega fats, amino acids, B vitamins and minerals such as Iron, magnesium and phosphorus. An excellent wholegrain for your diet.
3 Ways with Pot Barley
Make a Risotto by substituting this barley for brown risotto rice. As with brown rice, you will require more stock than for white.
Mix cooked barley with wholemeal cous cous for a nutty and nutritious base for a salad or accompaniment to a Tagine.
Add 20-40g of Pot Barley to a red meat stew or 50-60g for a vegetarian stew. This will add texture and flavour.
Ingredients:
Barley Grain, organically grown.
(Last Batch packed: produce of United Kingdom).
For more information on our ingredients policy please see here
Organic • Vegetarian, Vegan. Packed in a factory that also handles nuts, soya, sesame, eggs, milk, mustard, celery, wheat and gluten.
Customer Reviews on Trustpilot
Product Recommendations