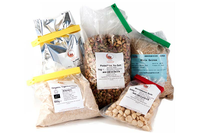 These strong clips allow you to re-seal food packs.
It's important to keep food as fresh as possible, in a hygenic manner. In order to help, we supply clips for resealing packets.
These clips are excellent, and we have searched hard to find clips that work really well with most household packet sizes, from spices to muesli. We have tested many, and these are the ones that we think are the best.
These clips are designed to be hard-wearing and big enough to be able to re-seal packets with the minimum of hassle. We guarantee that these clips will last a lifetime in normal use (i.e. re-sealing kitchen packets).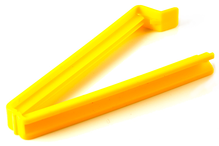 This is our recommended (largest) size of freshness clip. It has a 12cm (4.7 inch) usable length which makes it fine for resealing almost any household pack with a minimum of "scrunching".
Customer Reviews on Trustpilot
Product Recommendations