Aniseed is a common sweet-snack in India, and many people in India sit about chewing aniseed all day. It freshens the breath, and promotes a sense of digestive wellbeing.
Aniseed is one of the constituents of the curious post-dessert "freshen-up" mixes that you might get served in some Indian restaurants.
Aniseed Flavour & Uses
Flavour
: Aniseed has a flavour that
resembles liquorice or fenel
, though these plants are not related.. Similarly, Aniseeds are
not the same
as
Star Anise
. These two plants are also not related although the flavour is similar.
Uses:
Aniseed is used mostly in
cakes and biscuits
, though in very small doses it can be used to flavour
drinks, jams
and
red meat
dishes.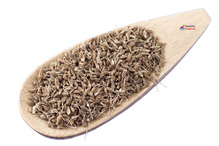 A Full Bag of Loose Aniseeds
Sprinkle or grind in to food for a liquourice-like flavour.
Use a freezer clip to keep bag fresh.
Customer Reviews on Trustpilot
Product Recommendations