Celery seeds are the tiny dried fruits of the celery plant. They have a strong aroma. The immediate flavour is that of celery (a sort of mildly bitter, mildly peppery, slightly lemon-like flavour). This flavour intensifies as you chew and becomes quite tangy. Some people compare the taste to that of
Fenugreek
.
Using Celery Seeds
The seeds can be used whole in
stews, soups, curries and with vegetables
. It can also be ground down with salt to make the seasoning
celery salt
. As with cumin, fennel and caraway seeds, lightly frying celery seeds helps to release their aroma into the oil and therefore deepening the flavour of the dish.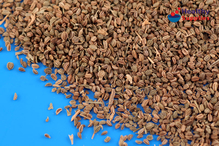 Loose Celery Seeds in a 50g Bag
Strong aromatic seeds.
Bitter and slightly lemon-like in taste.
Used in soups, stews, curries and with vegetables.
Customer Reviews on Trustpilot
Product Recommendations
---