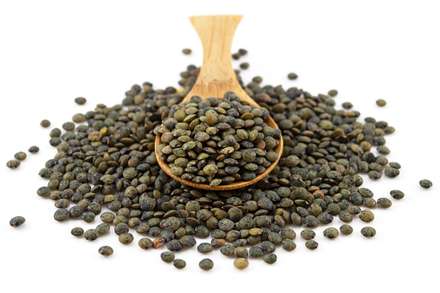 Last Batch Produced on Tue 29 Oct 2019 10:00. Best before End Dec 2021. Organic produce of Canada. Packed in the UK.
Organic French Lentils(1kg) - Sussex Wholefoods
Organic Whole French/Puy Type Lentils
Organic produce.
Greyish brown speckled lentil.
Remain firm when cooked.
High in protein and Iron.
Deeper, earthy flavour than other lentils.
Packed in Sussex.
1kg pack.
These French-type lentils are the same as Puy lentils, but cannot be called Puy as only lentils grown in the region of Le Puy-en-Velay in France may legally be called Puy. Once they have been cooked, they retain their shape much like peas and beans do.
Thanks to their chunky juicy texture, they make an excellent filling ingredient in salads, soups, stews and work fantastically when cooked with onions, spices, mushrooms and lemon juice.
Directions
Add lentils to boiling water and cook for 30 minutes, or until tender. Pressure cookers will soften the lentils in a much quicker time. You could also add these lentils straight to liquidy meals like soups or stews that are on a constant heat for half hour or so. These do not require pre-soaking.
Ingredients:
Organic French-type lentils.
Produce of Canada.
Nutritional Information
| Typical Values | per 100g |
| --- | --- |
| Energy | 318kcal/1353kJ |
| Protein | 23.8g |
| Carbohydrate | 56.3g |
| of which sugars | 2.4g |
| Fat | 1.3g |
| _of which saturates | Trace |
| Fibre | 4.9g |
| Sodium | Trace |
Organic • Wheat-free • Does not naturally contain gluten • Vegetarian, Vegan • Dairy-free.
Related Categories

---

Dried Pulses
Lentils
Puy Or French Lentils
Whole Lentils
Sussex Wholefoods Pulses
Customer Reviews on Trustpilot
Product Recommendations
---