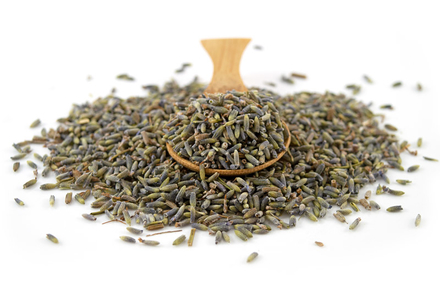 Special Offer: Was: £2.49
Last Batch Produced on Mon 9 Dec 2019 11:20. Best before End Sep 2021. Produce of Albania/France. Packed in the UK.
Lavender Flowers 50g (Sussex Wholefoods)
Special Offer: Was: £2.49
Dried Lavender Flowers
Use as a flavouring for cakes and biscuits.
Garnish summer puddings and hand-made chocolates.
Use topically, in a bath (or foot bath) with Chamomile Flowers or Rose Petals for a soothing soak!
Mix together with Hops Flowers to make a Hops Pillow.
Packed in Sussex.
50g pack.
These small, purple-blue highly fragrant flowers of the Lavandula angustifolia are useful both in the kitchen as well as around the house. They are a highly versatile herb flower.
In this pack the flowers have been separated from their flower head so as to form a loose consistency that is a good size for food decorating and flavouring. This also make them ideal for lavender bags to place in your wardrobe and drawers for fresh smelling clothes that will deter moths.
We also offer pure food grade Organic Lavender Essential Oil for adding Lavender flavouring to drinks, sweet sauces, puddings and cakes.
Ingredients:
Dried flowers of
Lavandula angustifolia
. (Produce of Albania/France)
For more information on our ingredients policy please see here
Wheat-free • Does not naturally contain gluten • Vegetarian, Vegan • Dairy-free.
Special Offer: Was: £2.49
Related Categories

---

Loose Herbal Tea and Flowers
Herbs
Lavender Tea
Sussex Wholefoods Teas
Sussex Wholefoods Herbs & Spices
Healthy Drinks | Healthy Supplies
Customer Reviews on Trustpilot
Product Recommendations
---