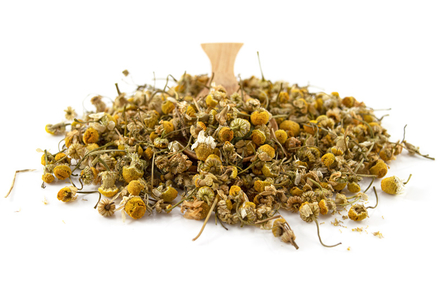 Special Offer: Was: £2.99
Last Batch Produced on Wed 6 Nov 2019 15:33. Best before End Apr 2021. Produce of Egypt. Packed in the UK.
Chamomile Flowers (Loose Tea) 50g (Sussex Wholefoods)
Special Offer: Was: £2.99
Whole Dried Chamomile Flowers
Whole flowers provide strength of flavour.
Soothes and calms.
Can also be used as a hair rinse for those with naturally blond hair!
Packed in Sussex
50g pack
These are the flowers of German Chamomile and are one of the best herbs for making a soothing and calming tea infusion. The Chamomile flowers can be steeped on their own or with other herbs such as Peppermint and Lime [Linden] Flowers. Using the whole Chamomile flower creates a fuller, richer flavoured tea.
Suggested quantities when making your Chamomile Tea: 2 teaspoons of flowers per cup of water.
You might also like to try...
Ingredients:
The dried flowers of
Matricaria Recutita
(German Chamomile)
(Produce of Egypt)
Wheat-free • Does not naturally contain gluten • Vegetarian, Vegan • Dairy-free.
Special Offer: Was: £2.99
Related Categories

---

Healthy Drinks | Healthy Supplies
Chamomile Tea
Loose Herbal Tea and Flowers
Herbs
Sussex Wholefoods Herbs & Spices
Sussex Wholefoods Teas
Horse
Customer Reviews on Trustpilot
Product Recommendations
---