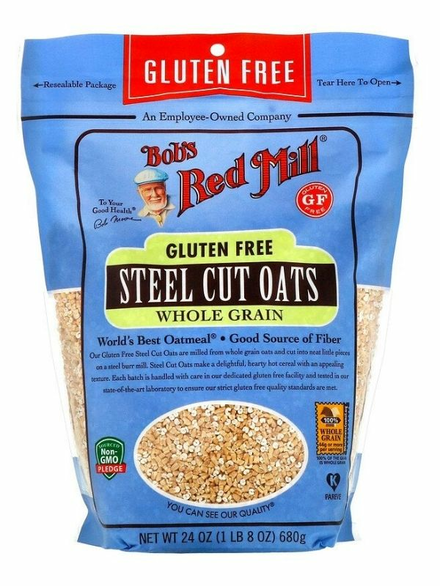 Bob's Red Mill steel cut pin head oats
Pinhead Oats, Gluten Free 640g (Bob's Red Mill)
Pure Premium Gluten Free Pinhead Oats
Steel cut oats.
Oats grown and processed on dedicated oat-only farms.
Makes a chunky porridge and adds texture to soup.
Pinhead oats are coarsely diced whole oats (also known as steel cut). They can be enjoyed for breakfast or can be added to soups and stews for extra fibre and texture.
Bob's Redmill gluten free oats are grown in dedicated oat-only fields. In fact, the farms that process the oats are regularly sampled to ensure the absence of wheat to avoid the cross-contamination of gluten. Many people with coeliac disease cannot eat oats because oats and wheat are commonly handled together at cereal farms or factories. Bob's Redmill ensure that this does not happen and that you can eat oats safe in the knowledge they have not been handled alongside wheat.
(Although do note, some people with coeliac disease/gluten intolerance also find the purest of oats can affect them. If you are unsure whether oats effect your diet, please check first with a doctor or nutritionist.)
Directions
Boil oats in water at a medium heat for between 10 - 20 minutes (depending on how soft you like your oats). If you prefer oats cooked in milk, its best to start the cooking process in water first and then finish these off in milk - this is to avoid the milk catching on the bottom of the pan. Try sweetening using
maple syrup
or
fruit
.
Ingredients:
Whole Grain Gluten-Free Oats.
For more information on our ingredients policy please see here
NB: For UK and European customers - The expiry dates on Bob's Red Mill packets are written in American order. ie, Month/Day/Year. (for example, 11/02/11 means 2nd November 2011).
Nutritional Information
| Typical Values | Per 100g | Per 40g Serving |
| --- | --- | --- |
| Energy | 390 calories | 156 calories |
| Protein | 15g | 6g |
| Carbohydrate | 67g | 27g |
| _of which sugars | 2g | 1g |
| Fat | 7g | 3g |
| _of which saturates | 1g | trace |
| Fibre | 11g | 4g |
| Sodium | 4mg | 2mg |
Guaranteed gluten-free • Vegetarian, Vegan.
Customer Reviews on Trustpilot
Product Recommendations
---