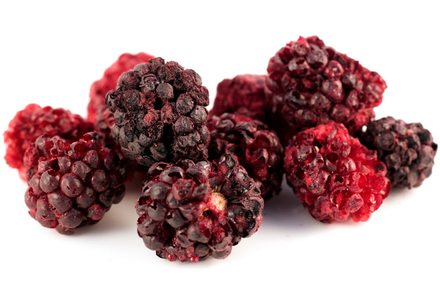 Freeze Dried blackberries have a tangy flavour
that bursts in the mouth.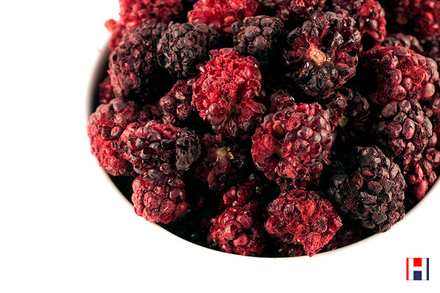 Special Offer: Was: £7.99
Last Batch Produced on Fri 17 Jan 2020 14:48. Best before End Nov 2020. Produce of Serbia. Packed in the UK.
Freeze Dried Blackberries 100g (Healthy Supplies)
Special Offer: Was: £7.99
Freeze Dried blackberries are free from any additives. 100% pure blackberry, they have the familiar tangy flavour that you would expect.
These freeze dried blackcurrants are dried to one-sixth of their original weight, and can be eaten as-is or reconstituted with water. Eat as a snack, add to breakfast (using the milk to reconstitute it), or add to apple and blackcurrant pie.
One typical 18g serving counts as one of your five-a-day. This can be reconstituted 6x to over 100g.
Freeze Dried fruit is additive-free.
100g foil-sealed pack.
No added sugar.
No preservatives.
100% blackberry.
Tastes like the real fruit.
100g of freeze dried blackberries is the equivalent of 600g of blackberries. Just the water is taken away.
Same size as normal blackberries - nice large fruit.
You can eat as-is, or rehydrate if you wish.
Eat as a snack, or add to muesli.
Packed in the UK.
Ingredients:
100% freeze dried blackberries. No additives or sugar.
See our freeze dried fruit nutritional information page for general information about freeze dried fruit.
Wheat-free • Does not naturally contain gluten • Vegetarian, Vegan • Dairy-free.
Special Offer: Was: £7.99
Related Categories

---

Dried Blackberries | Healthy Supplies
Freeze Dried Fruit | Healthy Supplies
Create Your Own Smoothie
Freeze Dried
Healthy Supplies Freeze Dried
Dried Berries
Customer Reviews on Trustpilot
Product Recommendations
---