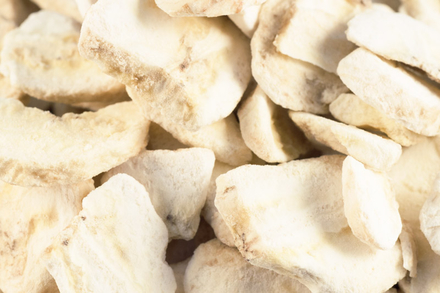 100% pure banana.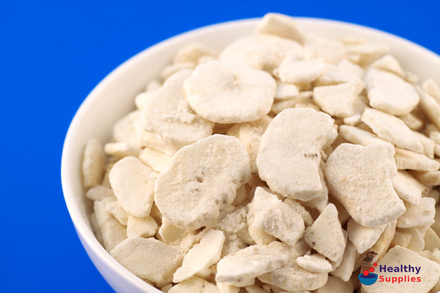 Freeze-Dried Banana Slices 100g (Healthy Supplies)
Freeze-dried banana slices are 100% pure, with nothing added. They are dehydrated to about one-sixth of their original weight, and are highly nutritious. Excellent for kids and adults alike. These freeze-dried bananas have a melt-in-the-mouth texture that's great for snacking, muesli and many uses.
100% pure banana - no additives, no sugar. Just banana.
Tastes very banana-like.
Can be rehydrated if desired.
Ingredients
Banana.
The taste test
Freeze-dried bananas have a very unusual consistency, being soft and brittle at the same time. They work particularly well in muesli, and are better than the standard "hard" type of banana chips. Flavour-wise, these have a more fruity flavour than their appearance would suggest - like banana sweets, and almost as deep as the
bogoya bananas
.
These bananas absorb milk very well in muesli, and also work well with other freeze-dried fruits in a sort of snack-mix. Being pure banana, they are a healthy way of getting your sweet-fix for the day.
Wheat-free • Does not naturally contain gluten • Vegetarian, Vegan • Dairy-free.
Related Categories

---

Bananas
Freeze-Dried Fruit
Create Your Own Smoothie
Healthy Supplies Freeze Dried
Customer Reviews on Trustpilot
Product Recommendations
---