These are chewy and taste very banana-like. 100% pure banana.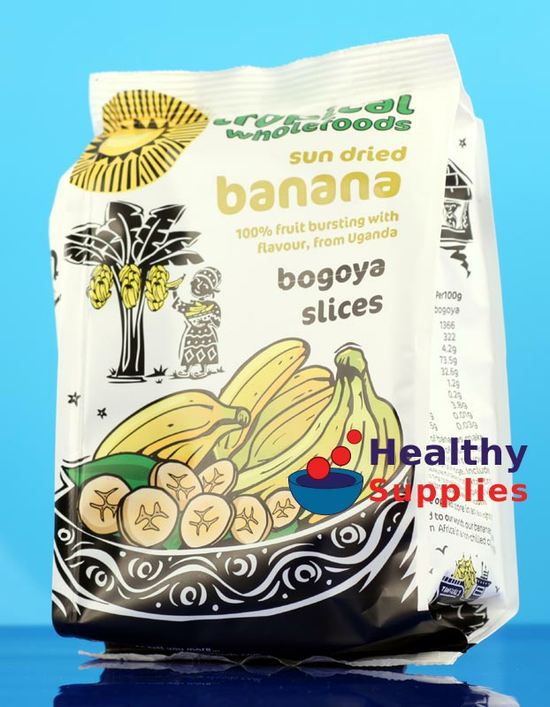 Bogoya Banana Strips, 125g (Tropical Wholefoods)
100% dried banana: no added sugar or preservatives.
These banana strips are similar to the
chewy banana chips
, and in our opinion are even more amazing! Like the chewy chips they are sugar free (most dried bananas contain sugar). They are chewy and especially banana-tasting, and are known as "boyoga slices", because they are made from the bogoya banana. Unlike most available dried banana, they contain no added sugar or any other preservatives - just 100% banana. Because they have no preservatives or sugar, they are slightly darker than most dried bananas (as you can see in the picture), but taste far better and more like actual bananas.
Ideal as a snack, in cooking, or in muesli or porridge. Grown by farmers' groups in Uganda.
You might also like to try...
Ingredients:
100% Bananas from Uganda, of the Bogoya variety. No added ingredients.
For more information on our ingredients policy please see here
The Taste Test
In our tests, the first thing that we noticed about these bananas was how soft and chewy they are. They are completely different from the normal
hard dried banana chips
, and even chewier than the
Tropical Wholefoods chewy banana chips
. It is a pleasant chewiness, kind of like chewy sweets (though a lot healthier of course!).
Flavour-wise, we liked the deep banana flavour of these pieces. They are reasonably sweet and kids will like them, though they are subtle enough for the adult palate. Being sugar free (and indeed just 100% pure dried banana), the sweetness is a natural, fruity sweetness.
These dried bananas work very well as a handy snack, and also fruit/nut mixes and that type of thing. For muesli, you might also like to consider the freeze-dried banana slices, which are very soft and have a similar fruity flavour.
Nutritional Information
| Typical Values | per 100g |
| --- | --- |
| Energy (kcal) | 322 |
| Protein | 4.2g |
| Carbohydrates | 73.5g |
| of which sugars | 32.6g |
| Fat | 1.2g |
| of which saturates | 0.2g |
| Fibre | 3.8g |
| Sodium | 0.01g |
Vegetarian, Vegan.
Customer Reviews on Trustpilot
Product Recommendations