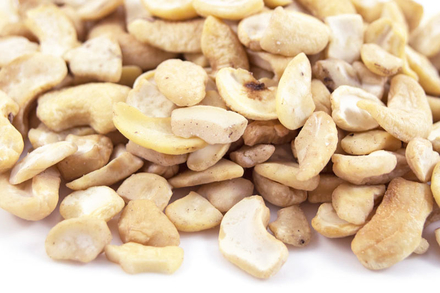 Special Offer: Was: £6.95
Last Batch Produced on Fri 29 May 2020 14:39. Best before End Feb 2022. Produce of Vietnam. Packed in the UK.
Cashew Nut Pieces 500g (Sussex Wholefoods)
Special Offer: Was: £6.95
Broken Cashew Nuts 500g
Economy cashew nuts.
No added ingredients.
Not roasted.
No sugar, no salt, no oil.
Great for snacking and for many recipes.
Packed in the Sussex.
500g pack.
Broken cashews with no added ingredients. They are un-roasted and un-salted. Try adding to curries, cakes and bread for added crunch. Works well when added to banana bread or mixed into a nut roast.
Ingredients:
Cashew nuts.
Please note, all Healthy Supplies products will soon become part of our Sussex Wholefoods range. There is a transition period when you might receive either Healthy Supplies or Sussex Wholefoods product. This is just the change of the label, ingredients remain unchanged.
For more information on our ingredients policy please see here
Vegetarian, Vegan.
Special Offer: Was: £6.95
---
Related Categories

---

Cashew Nuts | Healthy Supplies
Chopped Nuts | Healthy Supplies
Broken Cashew Nuts
Economy Cashew Nuts
Sussex Wholefoods Nuts
Customer Reviews on Trustpilot
---