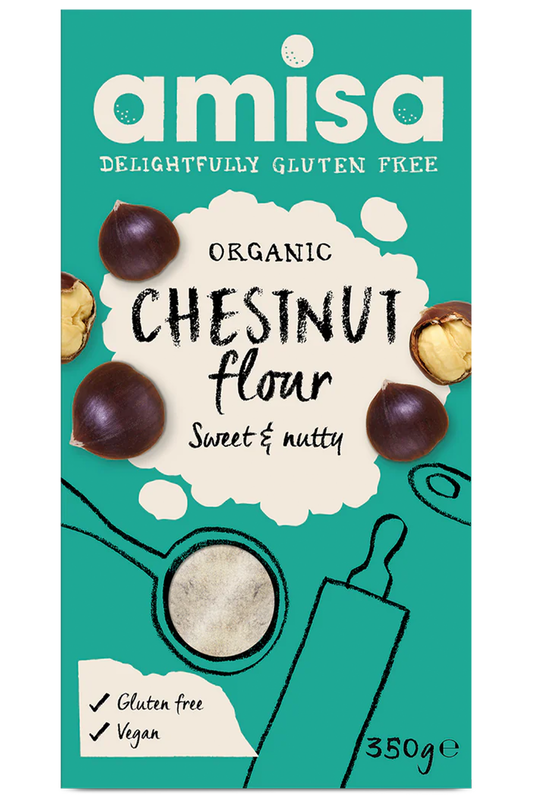 Chestnut Flour, Organic 350g (Amisa)
Sweet Chestnut Flour
100% Pure Organic Chestnuts.
Naturally sweet, nutty flavour.
Gluten and wheat free.
Ideal for sweet baking and cooking.
Add to pastry for sweetness & extra flavour.
This finely milled gluten free flour has a natural sweetness which makes it perfect for adding to gluten-free cakes and bakes. The flour is easily mixed into a gluten-free batter to make nutritious pancakes.
Chestnut flour does not contain gluten because it is a tree nut not a grain. This means that it is best combined either with gluten containing flours when baking. If you are on a gluten-free diet then a combination of chestnut flour, brown rice flour and cornflour (corn starch) will make an ideal base for many cakes. See directions below.
Gluten-free Flour Blend
To make 1kg of dry flour mix combine: 200g of Chestnut Flour, 500g Brown Rice Flour and 200g of Cornflour (Corn Starch).
Store in an airtight container.
Organic Ground Chestnuts. Produce of the EU.
Organic • Guaranteed gluten-free • Vegetarian, Vegan.
Customer Reviews on Trustpilot