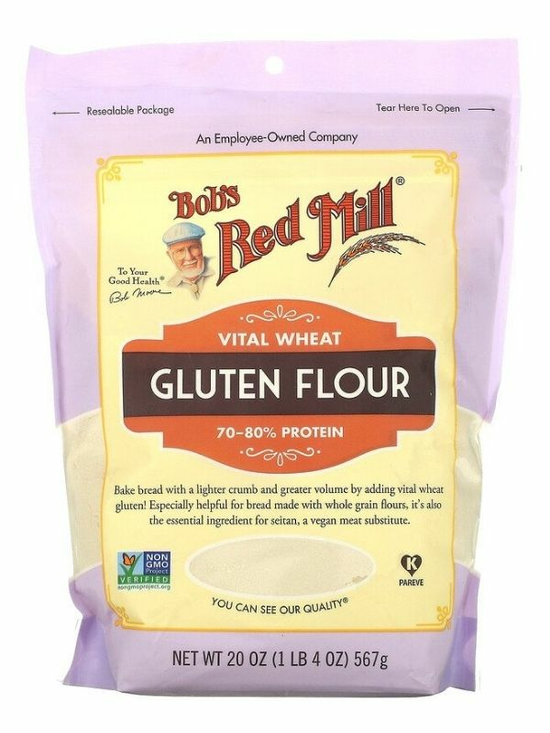 As used in our meat-free kebabs seen below: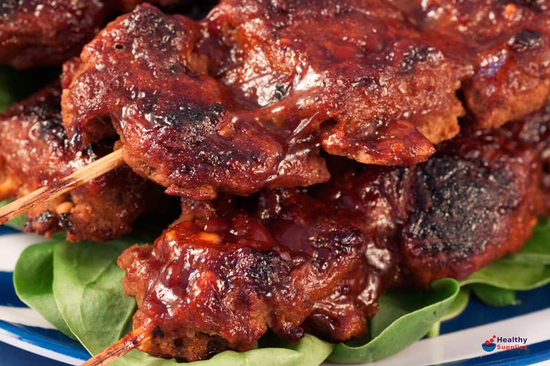 Vital Wheat Gluten Flour 567g (Bob's Red Mill)
Natural Wheat Protein in a Powder
Perfect natural additive for bread baking.
Partners well with whole grain flours & cereals.
Can also be used to make pretend meat or seitan.
Vital Wheat Gluten is made from the natural wheat protein found in the endosperm of the wheat berry (wheat grain) It is designed as a bread improver, because when combined with water it becomes elastic. It helps bread dough (i.e. strong flour) retain gas and steam whilst baking, thus increasing the volume of your bread and providing a looser crumb.
Bob's Red Mill Vital Wheat Gluten is especially helpful for baking breads made from coarse, whole grain flours and cereals.
This particular wheat gluten is between 75%-80% protein. Therefore Bob's Red Mill recommend that you add about 1 tablespoon per cup of flour in your bread recipe in order to improve texture and elasticity and to help your bread to rise.
Directions
As a bread improver:
Use gluten flour to improve the elasticity of the dough for low-gluten breads including rye flour, wholegrain flour or seeded loaves. Typically, one tablespoon of gluten flour for every 2 or 3 cups of flour.
To make seitan: Gluten flour can be used to make seitan, a meat substitute suitable for vegetarians and vegans:
Make a dough from gluten flour, water and spices such as sage, onion, marjoram and garlic.
Split the dough into 2-inch pieces.
Make a broth, typically from water, vegetable stock, soy sauce and a little molasses.
Boil the dough pieces for around an hour.
Drain.
The seitan pieces can be used exactly as meat: use in stir-fries, curries, sandwiches, salads and in casseroles.
How to use Wheat Gluten...
Meat Free Barbecue Kebabs - Recipe

We made these kebabs from this wheat gluten! A convincing meaty texture. This is an excellent seitan recipe for the beginner. You can make 4 batches of kebabs with 1 packet.
Ingredients:
Wheat Gluten. (This product was produced in a facility that uses tree nuts and soy.) Keep refrigerated once opened. Can also be stored in the freezer.
For more information on our ingredients policy please see here
Nutritional Information
| Typical Values | Per 100g |
| --- | --- |
| Energy | 388kcal |
| Protein | 71g |
| Carbohydrates | 18g |
| _of which sugars | 1.7g |
| Fat | 3.3g |
| _of which saturates | 0.7g |
| Salt | 0.21g |
| Fibre | 0g |
Vegetarian, Vegan.
Customer Reviews on Trustpilot
Product Recommendations