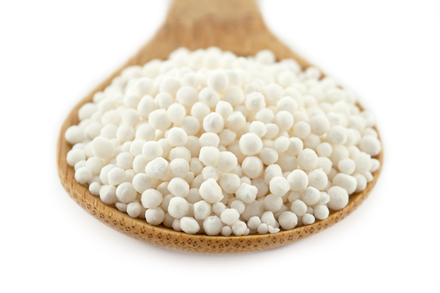 For tapioca puddings and drinks.
Last Batch Produced on Fri 22 May 2020 9:09. Best before End Sep 2021. Produce of Thailand. Packed in the UK.
Tapioca Pearls 500g (Healthy Supplies)
Pearled Tapioca
Small sized balls of tapioca.
Used in sweet puddings and drinks.
Popular in "Bubble Tea".
Make into Thai dumplings.
Naturally contains no gluten.
Pearled tapioca is made from Tapicoa starch from the root of the Cassava or Taro plant.
Tapioca Pearls are a main ingredient in Tapioca Pudding, which is a traditional British pudding. Since then they have become popular again through Asian and Thai cuisine.
The tapicoa balls enlarge and become translucent after cooking. Use in place of rice in puddings.
Directions
Tapioca is cooked in a similar manner to rice. Use to make tapioca pudding (a tapioca-based variant of rice pudding).
Tapioca is also used in "Bubble Tea", which is a type of tea that contains the tapioca balls. Add the balls whilst brewing the tea; they expand and become chewy.
Ingredients:
Tapicoa Starch.
For more information on our ingredients policy please see here
Produce of Thailand
Related Categories

---

Tapioca
Healthy Supplies Rice Grains
Food Cupboard
Customer Reviews on Trustpilot
Product Recommendations
---