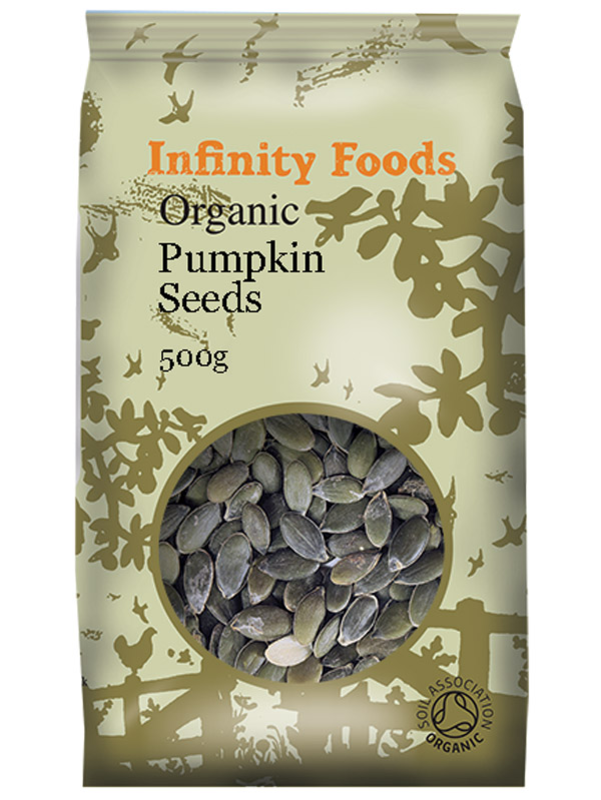 Pumpkin Seeds, Organic 500g (Infinity Foods)
Organic Pumpkin Seeds
Organically grown pumpkin seeds.
Contain important minerals and essential nutrients.
Ideal for snacking, baking and breakfast.
Pumpkin seeds are high in protein, magnesium and zinc. They also contain Iron and Calcium. All these minerals are important for muscle, tissue, nervous and bone health. Additionally, pumpkin seeds contain the essential fatty acid omega 3 which is important for joints, brain and eye health.
These pumpkin seeds are usually eaten as they are, either on their own or in seed mixes. They can also be toasted in an oven. They are ideal for mixing into bread and roll recipes, adding a rustic feel and extra crunch. You can use a Freshness Clip to keep the contents safe and crunchy whilst in your desk/bag.
Whole pumpkin seeds.
Produce of China
| Typical Values | per 100g |
| --- | --- |
| Energy | 569kcal/2360kJ |
| Protein | 24.4g |
| Carbohydrate | 15.2g |
| of which Sugars | 1.1g |
| Fat | 45.6g |
| of which Saturates | 7.0g |
| Fibre | 4.3g |
| Sodium | Trace |
Organic • Vegetarian, Vegan.
Customer Reviews on Trustpilot