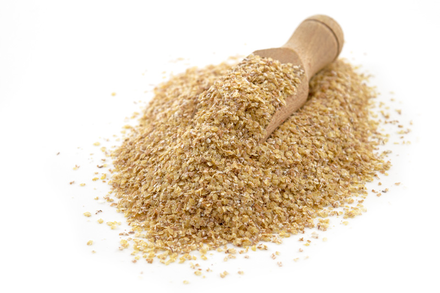 This product is temporarily out of stock.
Last Batch 84720 Produced on Thu 24 Sep 2020 14:09. Best before End Feb 2021. Organic produce of United Kingdom. Packed in the UK.
Organic Wheatgerm 20kg (Bulk)
This product is temporarily out of stock.
Raw Wheatgerm, from organically grown wheat - 20kg bulk.
Organically grown wheat germ.
Suitable for sprinkling onto breakfast cereals or porridge.
Also used in baking.
20 kg.
What is wheat germ?
Wheat germ is the nutritious "active" part of the wheat that is often removed before the wheat is made into flour. The germ is excellent sprinkled into breakfast cereals or muesli, or into cake mixes.
Wheat germ is high in protein as well as vitamin E, folic acid, essential fatty acids and minerals.
Directions
This wheat germ is ready to eat straight away and can be sprinkled directly onto cereals, or cooked into recipes.
Stir wheat germ into porridge or other breakfast cereals for added nutrition.
Add to baking e.g. crumble toppings, scones, bread for improved "bite" and texture.
Use in smoothies for a vitamin boost and a thicker texture.
Ingredients:
Organic Wheatgerm (Raw).
Packaged in a high barrier packet. Refrigerate once opened. For more information on our ingredients policy please see here
Nutritional Information
| Typical Values | Per 100g |
| --- | --- |
| Energy | 302kcal |
| Protein | 26.7g |
| Total Fat | 9.2g |
| _of which polyunsaturates | 4.2g |
| _of which saturates | 1.3g |
| Carbohydrate | 44.7g |
| _of which starch | 28.7g |
| _of which sugar | 16g |
| Fibre | 15.6g |
| Sodium | 5mg |
Organic.
This product is temporarily out of stock.
Customer Reviews on Trustpilot