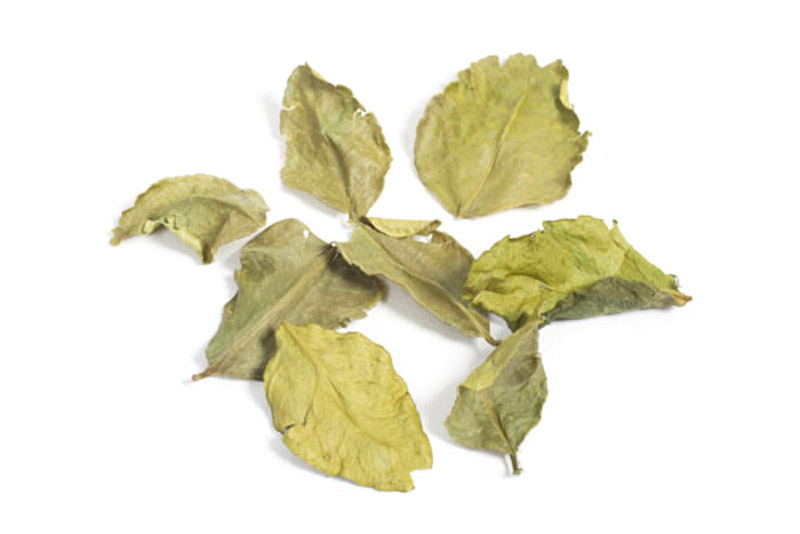 Kaffir Lime Leaves 10g (Hampshire Foods)
Quality, strong kaffir lime leaves. Good value. Kaffir Lime Leaves are used in Eastern Cooking, particularly Thai. They are typically added to the rice, or chopped finely and added into stir-fries.
Kaffir Lime Leaves impart a subtle lemony flavour, and are quite characteristic of Thai Cooking. You will recognise the flavour instantly!
6 ways to use Kaffir Lime Leaves
Use in Thai, Vietnamese and Indonesian curries, particularly ones based around coconut milk. The leaves are generally added whole.
Shred kaffir lime leaves finely before adding to Thai stir-fries.
Use kaffir lime leaves when steaming fish; the lime leaves, lemon grass and galangal are generally stuffed into the cavity before steaming.
Use whole kaffir lime leaves to flavour soups.
Whole kaffir lime leaves can be used to flavour rice. Simply add to the rice before cooking.
When steaming or boiling potatoes, tear up about 5 or 6 kaffir lime leaves and add them to the potatoes. The water/steam will absorb the flavour and create a lovely aroma! You can easily pick the leaves out before serving.
Directions
Add kaffir lime leaves to oriental stir fries and soups. A small handful of leaves is all that is necessary. You can add them whole, or crush them or chop them. For best results, crush slightly in a mortar and pestle to release the flavours, then add whole.
If you are chopping kaffir lime leaves, be sure to remove the centre-stalks, as these are the toughest part.
Kaffir lime leaves, dried.
Customer Reviews on Trustpilot