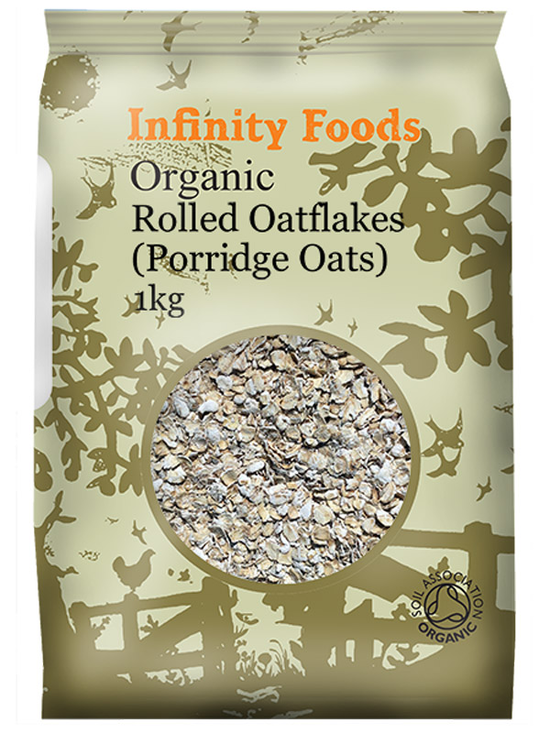 Soft and flaky organic porridge oats.
Rolled Oatflakes, Organic 1kg (Infinity Foods)
Organic Rolled Oats
Pure and simple porridge oats with no added salt or sugar.
Soft and fluffy in texture.
Makes delicious porridge or a muesli base.
Rolled oats are also ideal for making cakes and flap-jacks.
Organic Certified - Produced in the UK.
Porridge oats are more finely milled than the
jumbo oats
. Broadly speaking, they are produced by taking the jumbo oats (which are already rolled) and rolling them a bit more. These porridge oats are a bit more fine and have flakey bits and powdery bits, which means that they absorb more milk and go softer. This makes them ideal for porridge, but there is no rule saying that you cannot have them in muesli, which is what we do.
You can also use these porridge oats in cooking, e.g. flapjacks and rough biscuits.
Directions
There are many ways to make porridge. The most common way is to boil just under a pint of water and simmer in a pan with a cupful of porridge oats. Add milk to taste. You can also add
raisins
,
bran
and a
spoonful of jam
.
You can also make porridge in a microwave by putting the oats into a microwavable bowl, adding the boiling water and microwaving for around 3 minutes.
Ingredients:
100% pure organic rolled oats.
For more information on our ingredients policy please see here Store in a cool dark place in an air tight condition. (Click here if you require bag clips)
Nutritional Information
| Typical Values | Per 100g |
| --- | --- |
| Energy | 359 calories |
| Protein | 11g |
| Carbohydrates | 60.4g |
| _of which sugars | 1.5g |
| Fat | 8.1g |
| _of which saturates | 1.6g |
| Fibre | 8.5g |
| Sodium | 0.03g |
Organic • Vegetarian, Vegan.
Customer Reviews on Trustpilot
Product Recommendations