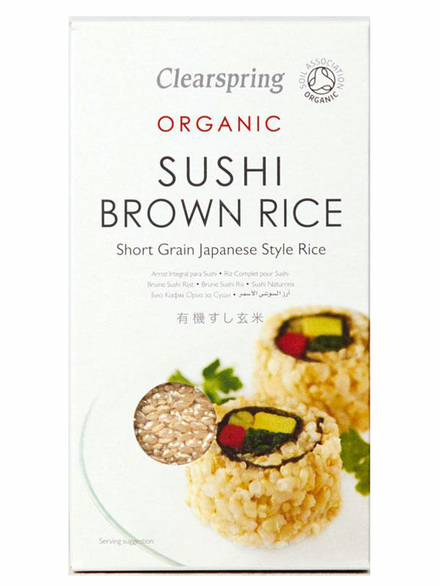 This brown sushi rice is not too sticky,
and is a good general-purpose rice
as well as a sushi rice.
Brown Sushi Rice 500g (Clearspring)
Brown sushi rice from Clearspring is, of course, designed for use with sushi, but actually works quite well in any food. Produced in Italy, it is a wholegrain rice that provides an even healthier option for those who love Japanese food. Sushi rice has a shorter, fatter grain than ordinary rice, and sticks together so that you can pick it up with chopsticks.
Wholegrain sushi rice is a little less sticky than white sushi rice, so do take this into account when cooking. Also, it takes a little longer to cook. It is worth the effort though; we like wholegrain things generally, because the rougher texture means that they absorb flavours better.
This rice also works well in risotto-type meals; it is just about the right stickiness.
Directions
Put the rice in a pan and soak the rice for 30 minutes. Fill pan with boiling water so that it covers the rice with about 5cm of water. Cover the pan with a reasonably tight lid and simmer for about 30-40 minutes, until all of the water is absorbed.
Ingredients:
Organic wholegrain rice from Italy.
For more information on our ingredients policy please see here
Organic • Vegetarian, Vegan.
Customer Reviews on Trustpilot
Product Recommendations