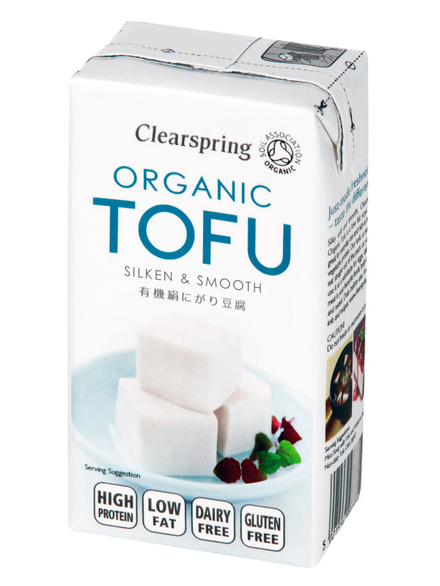 Organic Silken & Smooth Tofu 300g (Clearspring)
Our most popular tofu!
Silky & Smooth Organic Tofu
Long Life Tofu in a neat Tetra Style pack
High protein, low fat food
Dairy and gluten-free
Add straight to Miso Soup
Ready to eat from the pack.
Tofu is a versatile and nutritious ingredient, which is ideal for vegetarians and those needing dairy-free protein. This Organic Firm Tofu is made in Japan and is GM free. It is a good source of Magnesium, which may be useful for those who require more in their diet e.g. women going through the menopause.
The tofu can be sliced and shallow fried in a little rice or maize flour. Season with Chilli Flakes and Soy/Tamari Sauce. Alternatively chop into little cubes and add to Miso Soup or Ramen Noodles. Silken tofu can also be used pureed to make dairy free dips and desserts.
You might also like to try...
Ingredients:
Water, Soya Beans*(26%), coagulent: Nigari (Magnesium Chloride). *Organically grown. (Product of Japan)
Nutritional Information
Typical Values
Per 100g
Energy
64kcal
Protein
6.8g
Carbohydrates
1.9g
_of which sugars
1.3g
Fat
3.0g
_of which saturates
0.6g
_of which monounsaturates
1.5g
_of which polyunsaturates
0.8g
_of which cholesterol
0.0.mg
Fibre
1.1g
Sodium
trace
Magnesium
83.6g (28% RDA*)
*Recommended Daily Amount
Organic • Guaranteed gluten-free • Wheat-free • Vegetarian, Vegan • Dairy-free.
Our most popular tofu!
Related Categories

---

Tofu
Clearspring Authentic Japanese Specialities
All Clearspring Products
Customer Reviews on Trustpilot
Product Recommendations
---