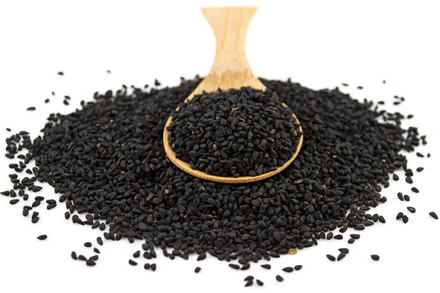 Special Offer: Was: £35.99
Last Batch Produced on Mon 9 Dec 2019 14:53. Best before End Mar 2021. Organic produce of India. Packed in the UK.
Organic Nigella/Black Onion Seed [Kalonji] 1kg (Sussex Wholefoods)
Special Offer: Was: £35.99
Bulk Pack of Nigella Sativa Seeds
Also known as "Black Onion Seeds".
Aromatic, savoury flavour.
Small seeds packed with a distinctive taste.
Commonly used to flavour Indian Naan Bread.
Lightly toast before sprinkling on salads, rice or noodles.
These are tiny black seeds from the Nigella Sativa plant, sometimes known as Black Cumin or Black Onion Seed. They have a slightly bitter, peppery flavour which disappears and becomes sweeter once the seed is lightly toasted in a dry pan.
Kalonji is popular in India where the seed is grown and is used to flavour naan bread, pickles and curry pastes. Kalonji is also found in the spice blend Panch Puren which is a mix of whole seeds and spices that are lightly toasted before grinding into a curry powder.
The bitter-sweet flavour of black onion seed can also be used in cuisine other than Indian.
Ingredients:
Black Onion Seed
Nigella Sativa
. Organically grown in India.
For more information on our ingredients policy please see here
Organic • Vegetarian, Vegan. Packed in a factory that also handles nuts, soya, sesame, eggs, milk, mustard, celery, wheat and gluten.
Special Offer: Was: £35.99
---
Related Categories

---

Nigella Seeds
Sussex Wholefoods Organic Herbs and Spices
Organic Spices
Customer Reviews on Trustpilot
Product Recommendations
---