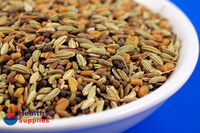 Panch Puren (aka: Panch Puran, Panch Phoran or Panch Phoronis) a dry herb mixture using whole Indian spices. This mix is also sometimes called
Bengali Five Spice
. It normally contains methi (fenugreek seeds), nigella seeds, rai (mustard seeds), fennel seeds and jeera (cumin seeds). Variations do exist, sometimes substituting ingredients with other ingredients such as star anise or black cumin seeds.
Panch Puren has a strong flavour and distinct taste. It will liven up any vegetable or meat dish. Either grind down or dry fry 1-2 tea spoons of Panch Puran to make curries, cooked vegetables and to make sauces.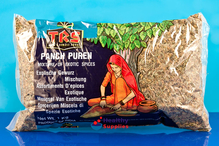 Panch Puren (also spelt: Panch Phoran or Panch Puran) An exotic blend of whole Indian spices: Cumin, Fennel, Fenugreek, Brown Mustard Seed and Kalonji.
Related Categories

---

Herbs and Spices
Ready-Mixed Seasonings
Spices
Indian Spices
Customer Reviews on Trustpilot
Product Recommendations
---