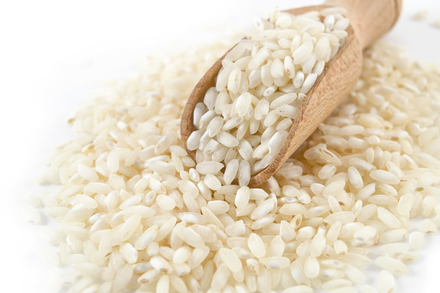 Special Offer: Was: £5.99
Last Batch 79400 Produced on Fri 27 Sep 2019 11:41. Best before End Mar 2020. Organic produce of Italy. Packed in the UK.
Arborio Rice, Organic 1kg (Sussex Wholefoods)
Special Offer: Was: £5.99
Organic Short-Grain Italian Risotto Rice
Organic produce.
Short-grain Italian brown rice.
Ideal for risotto, paella and rice pudding.
Short, starchy grains for a creamy consistency.
Packed in Sussex.
1kg pack.
Arborio rice is named after the town around which it is cultivated. These beautiful stubby white grains of rice hold their texture well during prolonged cooking. This makes them the perfect basis for an authentic Italian risotto. Arborio rice can also be used to make sweet rice pudding or used instead of Spanish rice in a Paella. The plump grains help to release starch during cooking, which makes for a creamy texture. This is a versatile short grain rice for making comforting sweet and savoury dishes.
4 ways to use Arborio Rice
Use Arborio rice to make risotto. Typical method: melt butter in a large saucepan and add rice and mushrooms. Gradually add stock, stirring constantly, and cook for around 25 minutes. Stir in herbs, Parmesan cheese and other seasonings.
Use Arborio rice to make rice pudding. Typically, the rice is soaked in a mixture of whole milk, evaporated milk, sugar and spices (such as nutmeg and cinnamon), and baked in a dish for 2 hours.
Use Arborio rice in paella.
Arborio rice can be used in place of standard white rice in Indian and Chinese food. It will give the food a creamier consistency than typical basmati rice.
Ingredients:
Organically grown Arborio Rice.
Produce of Italy
Organic • Wheat-free • Does not naturally contain gluten • Vegetarian, Vegan • Dairy-free.
Special Offer: Was: £5.99
Related Categories

---

Speciality Rice
Sussex Wholefoods Rice
Rice
Customer Reviews on Trustpilot
Product Recommendations
---