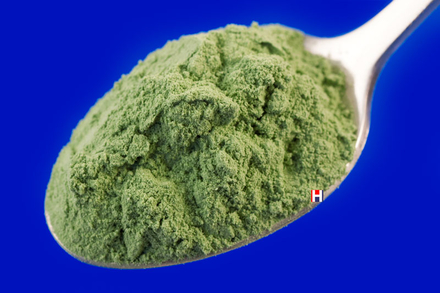 More concentrated than standard whole-leaf wheat grass powder.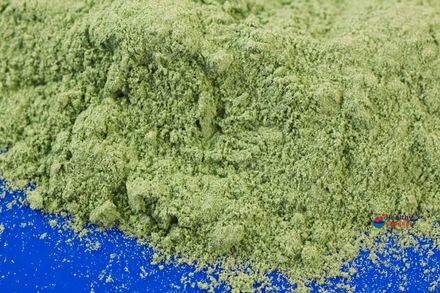 Made from wheat grass sap.
Below is this powder stirred straight into water!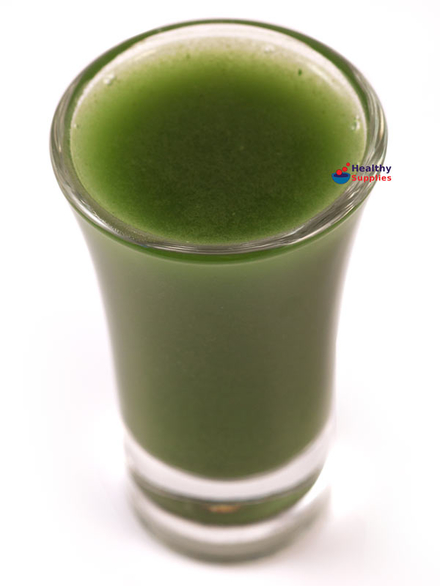 WheatGrass Juice Powder, Organic 250g (Sussex Wholefoods)
Our top-of-the-range wheatgrass powder!
100% Organic Wheat Grass Juice Powder
Pure powder with no added anything!
Different from normal wheat grass powder: This powder is made from the dried juice (sap) of the plant, which means that it dissolves more easily and doesn't contain the cellulose or the skin.
More concentrated than whole-leaf wheatgrass powders.
Organic.
Stir straight into water, coconut water or juice.
Mix into soups, fridge brownies and other raw food recipes.
This pale green powder has a sweet, mildy malty flavour very similar in flavour to Barley Juice Powder.
Wheat grass juice powder is easy to stir into smoothies, shakes and juices. It can also be used to add extra nutrition to raw food recipes such as soups and snacks.
In order to preserve the nutrients it is recommended that the Wheat Grass Juice Powder is stirred into warmed food as it cools or used in dishes which require no cooking or baking. Wheatgrass suits both sweet and savoury recipes.
The difference between this Juice Powder and standard wheat grass powder.
There is an important difference between this wheat grass juice powder and standard wheat grass powder. Normal wheatgrass powder is simply whole wheat grass leaves, ground and dried. This juice powder is made by juicing the wheatgrass in a juicer, before drying the juice into a powder. This means that the juice powder is more concentrated, as the juicing process removes most of the cellulose and skin, and instead retains more of the nutrients in the sap itself. This powder also dissolves more easily, for a smoother wheatgrass shot!
Instructions for Use
Simply dissolve in water, or add to smoothies and energy drinks. A suggested concentration in liquid is 2tsp per 240-250ml, or make into more concentrated 30ml "shots".
Ingredients:
Organic Wheatgrass Juice Powder.
For more information on our ingredients policy please see here
Produce of Uzbekistan
Nutritional Information
| Typical Values | Per 100g |
| --- | --- |
| Energy | 295kcal |
| Protein | 11.5g |
| Carbohydrates | 59.2g |
| Fat | 1.4g |
| _of which saturates | 0.2g |
| Fibre | 18g |
| Sodium | 0.058g |
| Salt | 0.145g |
Organic • Vegetarian, Vegan. Packed in a factory that also handles nuts, soya, sesame, eggs, milk, mustard and celery.
Our top-of-the-range wheatgrass powder!
Related Categories

---

Wheatgrass Powder
Healthy Drinks | Healthy Supplies
Juice Powder
Customer Reviews on Trustpilot
Product Recommendations
---