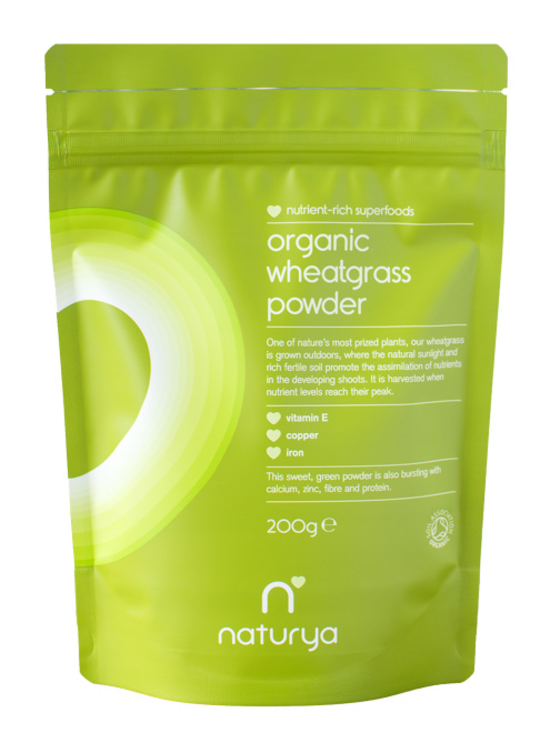 Below: Our recipe for refreshing
Wheatgrass, Apple, Cucumber juice...
Organic Wheatgrass Powder 200g (Naturya)
Organic, Pure Wheatgrass Powder
Processed in a traditional way to retain its natural qualities.
Use in juices and smoothies.
Vegan, Gluten Free, Yeast Free.
Resealable pouch.
Wheat grass is packed full of vitamins and minerals. As the young wheat grain sprouts grow, the germination process produces lots of nutrients such as Magnesium, Zinc and Vitamin C. The wheatgrass in Naturya is organically grown and harvested when the leaves are young and tender.
Using Wheatgrass Powder
This powder is really easy to incorporate into a healthy diet. The recommended amount is 10g - 15g per day. Simply sprinkle one or two spoonfuls of wheatgrass powder into a smoothie or juice.
The picture here features our Wheatgrass Refresher which is a fresh juice drink made from apple, cucumber and wheatgrass.
Ingredients:
Organic Wheatgrass Powder For more information on our ingredients policy please see here
Nutritional Information
| Typical Values | Per 100g |
| --- | --- |
| Energy | 195 calories |
| Protein | 21.5g |
| Carbohydrate | 21.8g |
| _of which sugar | 1.3g |
| Fat | 2.4g |
| _of which saturates | 0.3g |
| Fibre | 42.1g |
| Sodium | 0.2g |
| Magnesium | 137mg |
| Zinc | 1.9mg |
Organic • Vegetarian, Vegan.
Customer Reviews on Trustpilot
Product Recommendations