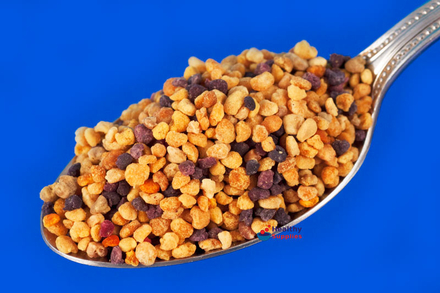 Bee pollen is naturally made by bees.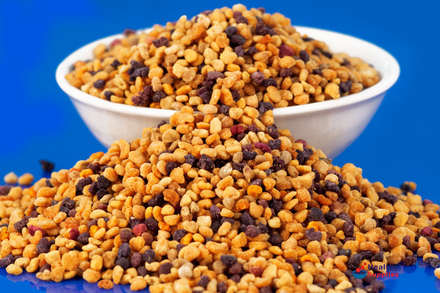 Each little pollen ball is unique,
depending on which flowers that bee has just visited.
Last Batch Produced on Thu 27 Jul 2017 10:29. Best before End Sep 2018. Produce of Spain. Packed in the UK.
Bee Pollen 100g (Sussex Wholefoods)
Pure bee pollen.
Pure bee pollen.
Can be used in smoothies and desserts.
Sprinkle over muesli or breakfast cereals, or into porridge.
Can even be eaten straight off the spoon.
Subtly sweet.
High in protein (typically 35 to 40%).
Bee pollen is highly regarded as a natural nutritional supplement that can be added to your morning breakfast cereal, smoothies, desserts or porridge. It is made by bees in the hives, as they roll the pollen into balls and stick it all together with honey and nectar. The bees also add other nutrients during the process such as enzymes, fungi and friendly bacteria. The bees use this pollen as their main source of protein.
Bee pollen has a mild sweetness and tastes good just off the spoon!
Bee pollen is higher in protein than most other foods including meat and dairy products. It is typically about 50% carbohydrates, and full of vitamins, minerals and essential fatty acids.
Ingredients
Pure bee pollen.
(Produce of Spain)
*In a small minority of people, bee pollen may cause allergic reactions.
Wheat-free • Does not naturally contain gluten • Vegetarian • Dairy-free.
---
Related Categories

---

Bee Pollen Granules
Honey
Create Your Own Smoothie
Customer Reviews on Trustpilot
---