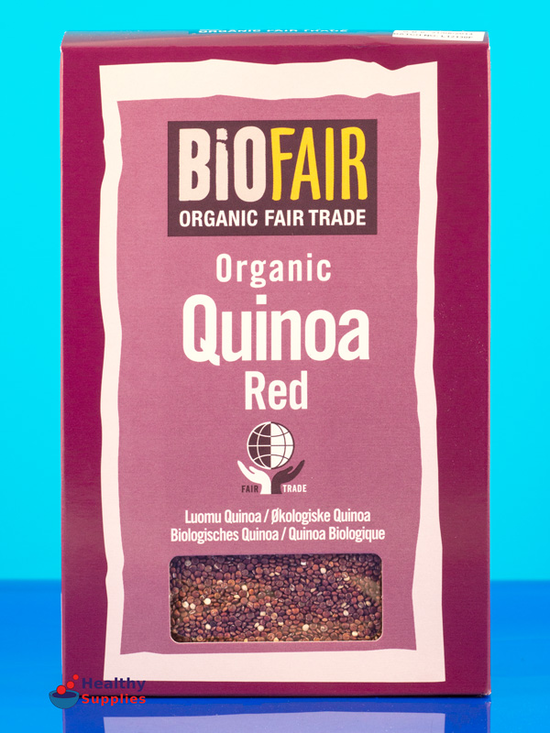 100% red organic and fairtrade quinoa.
Red Quinoa, Organic 500g (Biofair)
Red Quinoa - Organic & Fair Trade
100% natural quinoa grain.
High in protein.
A good source of Iron, calcium, magnesium and phosphorus.
A great alternative to rice or cous cous.
Quinoa is a fantastic tiny round grain. It derives from a grass and unlike typical, larger cereal crops, it is referred to as a pseudo-cereal.
Red quinoa is packed with protein and important minerals. When cooked it has a flavour similar to brown rice but texturally it is closer to cous cous. With this in mind, you can use red quinoa in just the same way as you do rice and cous cous. Simply boil in water, drain and either serve plain or cook in with additional vegetables and/or meats. You can also sprinkle quinoa into soups and stews.
How to cook.
Measure out some quinoa and rinse clean. Cook with two parts water. Bring it to the boil and leave to simmer with the lid on for 10 minutes, then remove from heat and serve once all the liquid has soaked in.
Ingredients:
100% Organic Red Quinoa.
For more information on our ingredients policy please see here
Nutritional Information
| Typical Values | Per 100g |
| --- | --- |
| Energy | 347 calories |
| Protein | 13.1g |
| Carbohydrate | 71g |
| Fat | 5.8g |
| Saturated fat | 0g |
| Fibre | 6g |
| Sodium | 21mg |
| Iron | 9.3mg |
| Calcium | 118mg |
| Phosphorus | 418mg |
| Magnesium | 204mg |
Organic • Vegetarian, Vegan.
Customer Reviews on Trustpilot
Product Recommendations