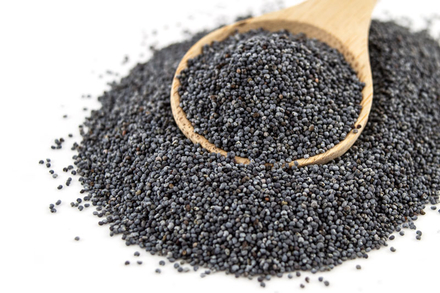 Special Offer: Was: £7.50
Last Batch Produced on Fri 17 Jan 2020 14:49. Best before End Jul 2020. Organic produce of Turkey. Packed in the UK.
Organic Blue Poppy Seeds(500g) - Sussex Wholefoods
Special Offer: Was: £7.50
Organic Poppy Seeds
These little seeds are more versatile than you might think. They have a dainty crunch and a subtle nutty flavour that works well in both sweet and savoury cooking.
Blue Poppy seeds are now commonly found in supermarket sliced bread along with other seeds and grains such as Flax(Linseed), Millet and Buckwheat . So, now you can make your own versions of these wholegrain loaves.
Poppy seeds are also popular as a filling in cakes and yeast-based pastries in Austria, Germany and Poland, where a paste is made using sugar and butter.
Organic produce.
Use as topping for bread rolls and loaves.
Add into dough, pastry or cakes.
Use to make a tasty sweet butter filling.
Packed in Sussex.
500g pack.
Ingredients:
Organic Poppy Seeds.
For more information on our ingredients policy please see here
Recipe Suggestion
Poppy Seed Cakes

This poppy seed cake uses a generous amount of poppy seeds for extra flavour and texture.
Nutritional Information
| Typical Values | Per 100g |
| --- | --- |
| Energy | 533kcal |
| Protein | 18g |
| Carbohydrates | 24g |
| _of which sugars | Trace |
| Fibre (Englyst) | 10g |
| Fat | 45g |
| _of which saturates | 4.9g |
| Ash | 6.8g |
| Water | 6.8g |
| Sodium | 0.02g |
Organic • Wheat-free • Does not naturally contain gluten • Vegetarian, Vegan • Dairy-free.
Special Offer: Was: £7.50
Related Categories

---

Poppy Seeds | Healthy Supplies
Sussex Wholefoods Seeds
Edible Seeds | Healthy Supplies
Customer Reviews on Trustpilot
Product Recommendations
---