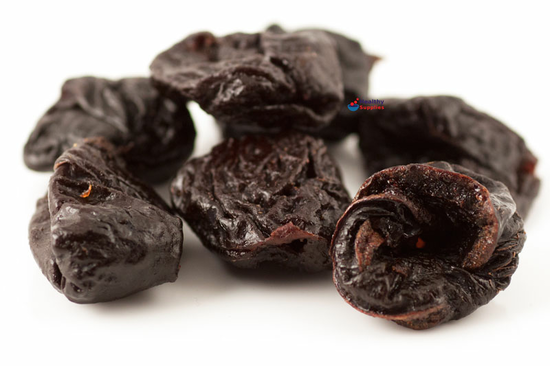 Organic pitted prunes.
This product now comes in
100% recyclable packaging.
Last Batch 105035 Produced on Mon 1 Aug 2022 14:41. Best before End Apr 2023. Organic produce of France. Packed in the UK.
Organic Pitted Prunes 500g (Sussex Wholefoods)
100% Organic Dried Prunes.
Pitted.
Soft, ready-to-eat.
No preservatives.
No added water: just naturally moist and succulent!
Packed in Sussex.
500g pack.
Organic prunes at a super-low price!
These dried prunes do not require pre-soaking and have not been sulphured. The prunes are pitted, ie. they have had their stone removed. We think that this is much more convenient than those with their stone left in. They are both juicy and succulent.
Prunes are high in fibre and are naturally sweet. They can been eaten as is or alternatively used in cooking (e.g. Moroccan Tagine) and baking (e.g. Chocolate Cake).
Ingredients:
Organically grown pitted prunes.
Produce of France. For more information on our ingredients policy please see here
Please note that sugaring may occur: this is where the natural sugars present in the prune crystallise near the skin. This is normal and does not affect the quality or flavour of the prunes. They still taste lovely! Some other brands of prune contain additives to stop this from happening, but we refuse to sell prunes with additives! Enjoy these prunes as they naturally are!
Caution: may still contain the occasional stone.
Organic • Vegetarian, Vegan. Packed in a factory that also handles nuts, soya, sesame, eggs, milk, mustard, celery, wheat and gluten.
Customer Reviews on Trustpilot