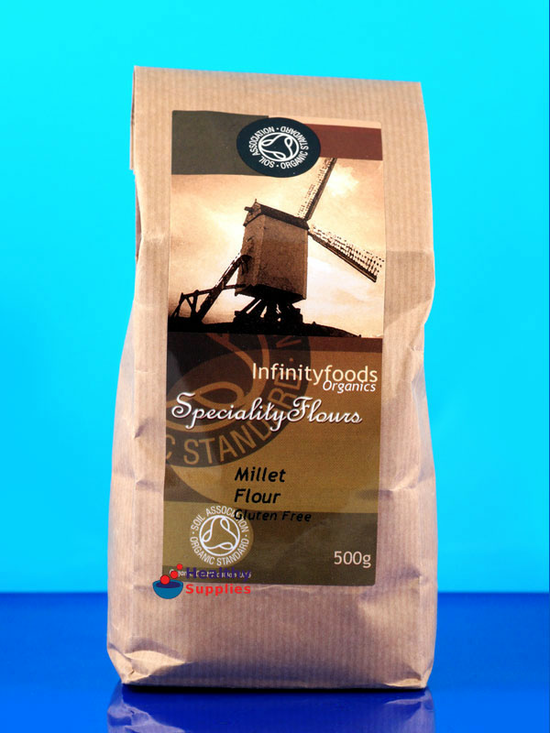 Organic Millet Flour 500g (Infinity Foods)
Organic Millet Flour
Traditionally used in Asian culture for making flat bread.
Has a slightly sweet taste.
A fine flour - can be added to other baking recipes.
Gluten-free.
Directions
Millet Flour can be incorporated into both sweet and savoury recipes.
For use in baking, it will require additional agents to help the dough stick together.
Xanthan Gum
will do this. Bicarbonate of Soda and Vitamin C Powder will help create air bubbles and moisture in the mix.
To make flatbreads such as chapatis, mix millet flour with water to make a dough before frying in a hot pan for around 3 minutes on each side.
To make leavened bread, mix with another flour such as rice flour, tapioca flour or buckwheat flour. Millet flour needs other flours to help the dough to rise (it doesn't tend to rise on its own).
Ingredients:
Ground Organic Millet. Gluten free. Organically produced in China.
For more information on our ingredients policy please see here
Nutritional Information
Batch-tested to be gluten-free (tolerance 20 parts per million).
| Typical Values | Per 100g |
| --- | --- |
| Energy | 344 calories |
| Protein | 9.9g |
| Carbohydrates | 69.6g |
| _of which sugars | 0g |
| Fat | 2.9g |
| _of which saturates | 0g |
| Fibre | 3.2g |
| Sodium | 0.0mg |
Organic.
Customer Reviews on Trustpilot
Product Recommendations