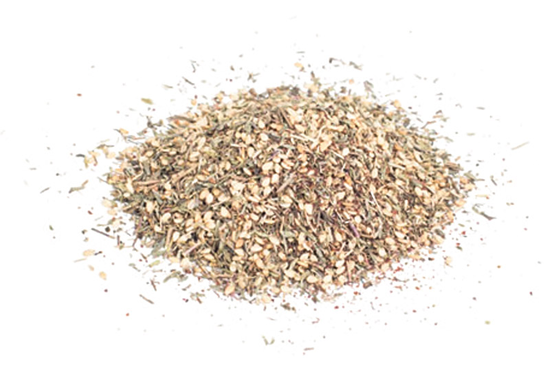 Za'atar with sesame seeds, sumac, thyme, cumin, corriander and salt.
Za'atar (Zahtar) Middle Eastern Seasoning 50g (Hampshire Foods)
Za'atar Syrian Herb Blend
This Zaatar blend contains: Thyme, Sesame Seeds, Sumac, Salt, Cinnamon, Coriander and Fennel.
Makes a light marinade or seasoning.
Zaatar (also written za'atar, zahtar, zahatar), is a blend of herbs mixed with sesame seeds and sumac. This particular blend originates from Syria though the recipe follows a more Lebanese flavour with the use of cumin and coriander. Some blends of zahtar include oregano or marjoram.
The Flavour
This particular blend has a light and lemon-like flavour thanks to the sumac and the sesame seeds add a lovely nutty hint. The fennel seeds are surprisingly subtle in flavour and balance out the thyme and coriander. Do note that this blend contains salt which really enhances the flavour of the ingredients. We suggest that no additional salt is needed in a dish cooked with this za'atar seasoning.
Uses
Zing up a meal with Zahtar!
Za'atar is used throughout Syrian cuisine, and adds a distinctive Middle-Eastern flavour to meats, vegetables and breads. Its light, lemony flavour really brightens up the flavour, without adding heat. It is "herby" rather than "spicy"!
Za'atar can also be blended into a paste with olive oil. This makes the mixture perfect for rubbing in to flat breads such as naan bread, or used to coat chicken or kebabs. The dry seasoning could be sprinkled into bread crumbs which also could coat meats or be used to make beef or veggie burgers.
Ingredients:
Thyme, Sesame Seeds, Sumac, Salt, Cinnamon, Coriander and Fennel.
For more information on our ingredients policy please see here
Vegetarian, Vegan.
Customer Reviews on Trustpilot
Product Recommendations