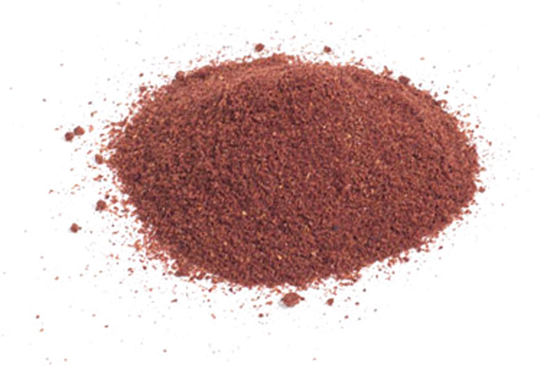 Sumac has a lemony flavour
and is commonly used in the Middle East.
Sumac (Sumaq) 50g (Hampshire Foods)
Pure Sumac Spice
Subtle lemony flavour.
Diverse seasoning: many uses.
No added salt.
50g packet.
Sumac has an interesting subtle flavour. It has a slight lemon taste, similar to tamarind but more herb-like. It is a traditional Middle-Eastern flavouring and is used for flavouring meats and roast vegetables.
Sumac is made by crushing and drying the berries of the sumac plant. This sumac is 100% pure, with no added salt or anything else.
7 Uses for Sumac
Rub sumac into meats before frying or barbecueing. Sumac is commonly used in the Middle East to flavour lamb, but it can also be sprinkled over a chicken before roasting.
Use sumac in meat marinades. A simple marinade of sumac, vinegar and herbs can add an instant Middle-Eastern flavour to a meat dish.
Use sumac to flavour houmous, barbecue sauces and other dips and spreads.
Liven up roast potatoes or roast vegetables with sumac. Mix the sumac with a little olive oil and drizzle over the potatoes/vegetables before roasting.
Sumac is often used as one of the ingredients in zahtar, a Middle-Eastern herb mix. A typical zahtar mix will contain sumac, thyme, basil, oregano and sesame seeds, lightly crushed together.
Sprinkle sumac into rice before cooking for a light, zesty flavour.
Use sumac as a kebab flavouring: it can simply be mixed in with the mince before it is loaded onto the skewer. It can also be used in burger mixes in the same way.
Ingredients:
Pure sumac. Produce of many countries.
For more information on our ingredients policy please see here
Vegetarian, Vegan.
Customer Reviews on Trustpilot
Product Recommendations