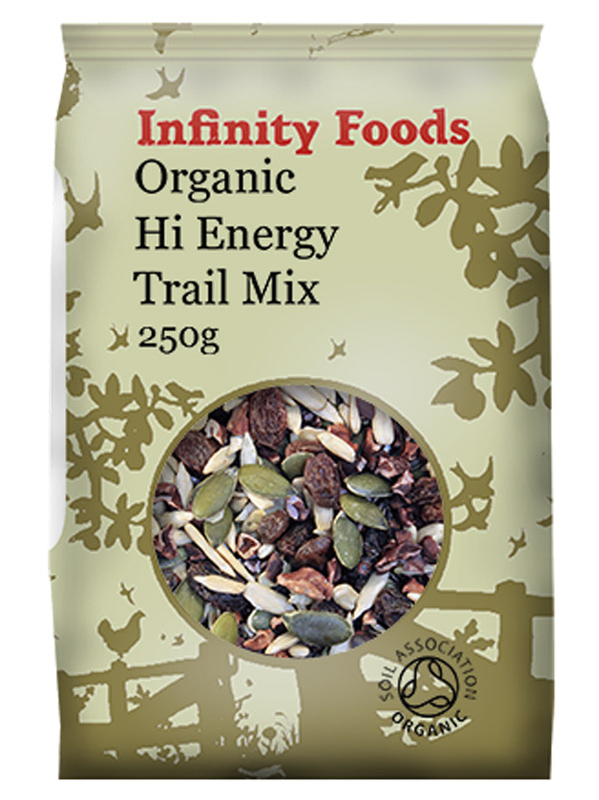 Hi Energy Trail Mix 250g (Infinity Foods)
Organic Goji Berry, Cocoa Nibs & Mixed Seed Trail Mix
Packed with energy rich seeds & essential omega oils.
Contains: Cocoa Nibs, Sunflower Seeds, Pumpkin Seeds, Sultanas, Raisins, Cranberries and Goji Berries.
Tasty, chewy and crunchy.
Contains no added sugar, salt or oil.
Also available in a 125g snack pack.
The Hi Energy Trail Mix is a very delicious blend of
succulent fruit
,
soft sunflower & pumpkin seeds
and
crunchy cocoa nibs
, the flavours of which all compliment each other perfectly. These are great for snacking and sharing around. They'd also be brilliant in muesli.
Cocoa Nibs 25%, Sunflower Seeds 17.5%, Pumpkin Seeds 17.5%, Sultanas 15%, Raisins 15%, Cranberries 5% and Goji Berries 5%. (certified organic).
| Tyoical Values | Per 100g |
| --- | --- |
| Energy | 344 calories |
| Protein | 10.1g |
| Carbohydrate | 53.62g |
| _of which sugars | 6.69g |
| Fat | 23.46g |
| _of which saturates | 6.69g |
| Fibre | 5.46g |
| Sodium | trace |
Customer Reviews on Trustpilot