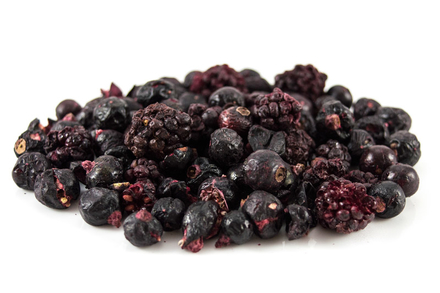 Special Offer: Was: £9.95
Last Batch 80180 Produced on Tue 22 Oct 2019 14:52. Best before End Aug 2020. Produce of Serbia. Packed in the UK.
Freeze Dried Purple Berry Blend 100g (Healthy Supplies)
Special Offer: Was: £9.95
Freeze Dried Purple Berries
A mixture of blueberries, blackberries and blackcurrant.
100% pure - no additives, no colourings, no flavourings.
20g = 1 serving which is one of your five a day.
Eat dry or rehydrate.
Packed in the UK.
100g pack - equivalent to 700g of fresh berries.
The purple berry blend is an equal mix of freeze dried blackberry, blueberry and blackcurrant. They are deliciously light and slightly crunchy eaten as they are or they can be rehydrated in water to soften.
How To Use
Sprinkle into your breakfast, smoothies, cookie or cake recipes. They also make a fine and healthy snacking fruit. One helping counts as one of your five-a-day.
To rehydrate use 1 part berry blend to 6 parts liquid.
Ingredients:
Blueberries, blackberries and blackcurrants.
Wheat-free • Does not naturally contain gluten • Vegetarian, Vegan • Dairy-free.
Special Offer: Was: £9.95
Related Categories

---

Dried Blackberries | Healthy Supplies
Dried Blackcurrants | Healthy Supplies
Dried Blueberries | Healthy Supplies
Freeze Dried Fruit | Healthy Supplies
Mixed Fruit | Healthy Supplies
Create Your Own Smoothie
Healthy Supplies Freeze Dried
Dried Berries
Customer Reviews on Trustpilot
Product Recommendations
---