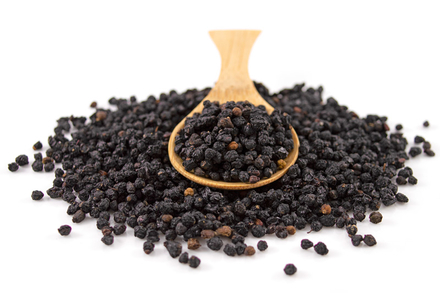 Use these berries to make an elderberry syrup or a tea infusion.
Last Batch 80866 Produced on Thu 14 Nov 2019 13:38. Best before End Aug 2020. Produce of Hungary. Packed in the UK.
Elderberries 200g (Sussex Wholefoods)
Whole Elderberries
Pure, dried fruit - no added sugar or preservatives.
Ideal for making herbal tea infusions.
Blends well with dried blueberries and blackcurrants.
Use in homemade brews, cordials, jellies and jams.
A dark berry with a tart taste that adds colour and flavour to a variety of drinks and recipes.
Dried elderberries are a convenient way of enjoying this rich berry throughout the year. Their purple skins are commonly associated with fruit and berries rich in antioxidants, including Vitamin C.
Instructions for Use
For a herbal tea infusion use around 1tsp per 250ml of recently boiled water. Elderberries are best combined with other berries such as raspberry and blueberry.
Do not consume raw; elderberries should be cooked before use.
Ingredients:
Dried, whole elderberries.
Sambucus Nigra
Produce of Eastern Europe
Wheat-free • Does not naturally contain gluten • Vegetarian, Vegan • Dairy-free.
Related Categories

---

Healthy Drinks | Healthy Supplies
Loose Herbal Tea and Flowers
Elderberries
Sussex Wholefoods Teas
Dried Berries
Sussex Wholefoods Fruit
Customer Reviews on Trustpilot
---