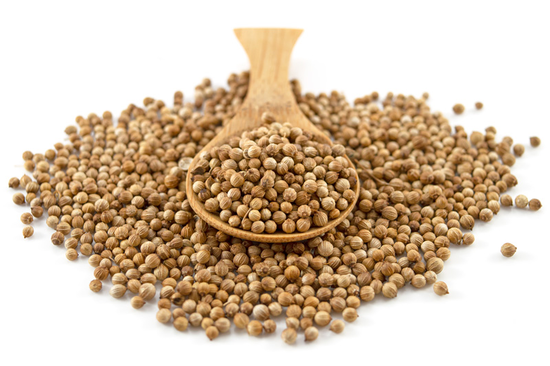 Last Batch 103684 Produced on Thu 31 Mar 2022 11:32. Best before End Aug 2023. Organic produce of Italy. Packed in the UK.
Organic Coriander Seed 100g (Sussex Wholefoods)
Organic Whole Coriander
Also known as "whole dhania" or "coriander seeds".
Traditionally used in Indian curries.
Crush or grind before use.
Packed in Sussex.
100g pack.
Organic and high-quality.
This is whole coriander, which is simply the seeds of the coriander plant. These coriander seeds are used in Indian curries. Whole coriander has a longer shelf life than ground coriander, and is typically ground immediately before use for the freshest flavour.
Directions
Whole coriander is typically used in curries, and is usually ground or crushed before use. For best effect, you can "toast" the coriander first (see below).
Grind immediately before use for maximum freshness. Whole spices keep their flavour for longer than ground spices, because once a spice is ground, the natural oils in the spice that are responsible for the flavour are exposed to the air. So it's desirable to them whole for as long as possible!
5 Ways To Use Whole Coriander
Use coriander in Indian curries. Grind immediately before use and use around half a tablespoonful per person, according to taste.
When coriander seeds are crushed in a mortar and pestle rather than ground, the larger fragment size means that the flavour is a little more gentle, and released more slowly. Crushed coriander seeds work well in liquidy curries or casseroles where the flavours can infuse more slowly. Used in such a way, the coriander has a milder, more subtle flavour.
You may like to toast whole coriander before grinding it. Simply heat in a hot pan or a hot oven for 2-3 minutes, then grind in a spice grinder before use. The toasted coriander will have a more intense flavour than ground coriander, and can be then used in curries. Use immediately.
Whole coriander is more robust than coriander powder under high heat, and works well in roasted dishes such as roast chicken.
Coriander seeds are used in pickles and preserves. Simply add the whole seeds to the vinegar along with the rest of the ingredients.
Ingredients:
Organic coriander seeds.
(Last Batch packed: produce of Italy).
For more information on our ingredients policy please see here
Organic • Vegetarian, Vegan. Packed in a factory that also handles nuts, soya, sesame, eggs, milk, mustard, celery, wheat and gluten.
Customer Reviews on Trustpilot
Product Recommendations