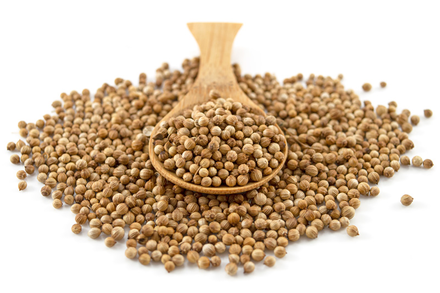 Last Batch 87597 Produced on Mon 18 Jan 2021 13:41. Best before End Oct 2023. Organic produce of India. Packed in the UK.
Organic Coriander Seeds 1kg (Bulk)
Organic Whole Coriander
Also known as "whole dhania" or "coriander seeds".
Traditionally used in Indian curries.
Crush or grind before use.
Packed in Sussex.
1kg bulk pack.
Organic and high-quality.
This is whole coriander, which is simply the seeds of the coriander plant. These coriander seeds are used in Indian curries. Whole coriander has a longer shelf life than ground coriander, and is typically ground immediately before use for the freshest flavour.
Directions
Whole coriander is typically used in curries, and is usually ground or crushed before use. For best effect, you can "toast" the coriander first (see below).
Grind immediately before use for maximum freshness. Whole spices keep their flavour for longer than ground spices, because once a spice is ground, the natural oils in the spice that are responsible for the flavour are exposed to the air. So it's desirable to them whole for as long as possible!
Ingredients:
Organic coriander seeds. Produce of India.
For more information on our ingredients policy please see here
Organic.
Customer Reviews on Trustpilot
---