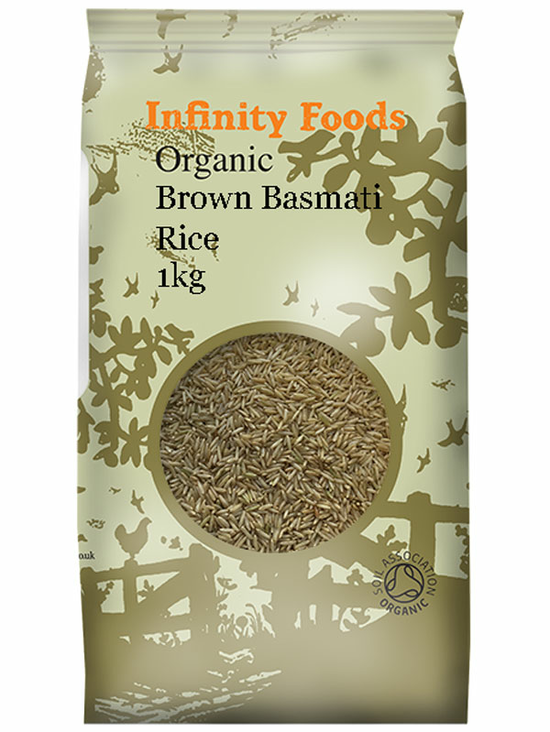 This brown basmati rice has a rough texture
that soaks up flavour. Organic.
Brown Basmati Rice, Organic 1kg (Infinity Foods)
Organic Brown Rice - for Basmati and more.
Organic brown basmati rice.
Long-grain rice.
Less processed than white rice.
Higher in fibre.
Easy to cook!
This brown basmati rice is an excellent-tasting quality basmati. Being brown rice, it is less processed than white rice, and there is a bit of husk to add a bit of texture that soaks up food-juices. As well as the more interesting taste, many people eat brown rice for health reasons, as it is higher in fibre and other nutrients including iron and many b-vitamins.
Basmati rice is a particularly fluffy type of rice, and is the highest-quality rice that is used in India. It is a long-grain rice. It is very easy to cook... in fact, it is a mystery why "easy cook" rices exist, as they are no more easy to cook than basmati rice.
Brown basmati rice takes a little longer than white basmati rice, but is only slightly more of a challenge. If you use our directions below then everything will be okay.
Directions
With rice, especially with Basmati Rice, it's important to ignore the instructions given on the packet and do it the Healthy Supplies way. This involves the following course of action:
You do not have to soak this rice.
Put the rice in a saucepan that has a lid. (If you do not have a saucepan with a lid, you can improvise).
Level the rice, and cover with an appropriate level of boiling water from the kettle. For this brown basmati rice, this means that the water will be about 3 centimetres above the level of the rice. (white basmati only needs about 1cm).
Cover and bring to the boil. Once steam starts coming out, turn the heat down to a gentle simmer.
Do not stir the rice.
Simmer for 20 minutes, until the water is all gone.
You will then have light, fluffy rice that you do not need to drain.
If a disaster occurs and the water dries out before the rice is cooked, then do add more water. It will probably be okay.
Ingredients:
Organic Brown basmati rice. Produce of India or Pakistan.
For more information on our ingredients policy please see here
Vegetarian, Vegan.
Customer Reviews on Trustpilot
Product Recommendations