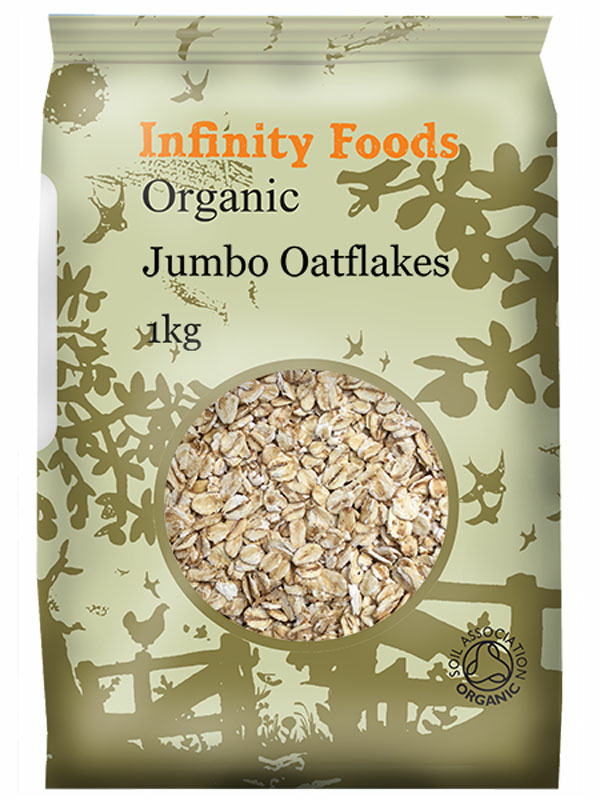 Jumbo Oats, Organic 1kg (Infinity Foods)
Organic Jumbo Oat Flakes
Large rolled oats with little to no dust.
Great in flapjack and biscuit recipes.
Suitable for granola/muesli base and makes a more textured porridge.
No added salt or sugar.
Processed in the UK.
These jumbo oats are simply whole oats that have been flattened. They can be used to make a hearty, thick porridge, and can also be used in baking recipes such as flapjacks.
Directions
To make porridge: Place a cupful of oats in a saucepan and add a cupful of milk and 2 cupfuls of boiling water. Bring to the boil and simmer for 15 minutes, adding water if it dries out. Sweeten to taste and serve.
To make flapjacks: Melt a large knob of butter in a saucepan, together with 2 tablespoons of molasses and a tablespoon of coconut sugar (or brown sugar). Add a cupful of these jumbo oats and stir. Flatten into a lined baking tray and put into a pre-heated oven at 200°C for 20 minutes. Serves 2.
100% Whole Jumbo Oats (Organic Certified).
| Typical Values | Per 100g |
| --- | --- |
| Energy | 359 calories |
| Carbohydrates | 60.4g |
| _of which sugars | 1.5g |
| Fat | 8.1g |
| _of which saturates | 1.6g |
| Fibre | 8.5g |
| Sodium | 0.03g |
Organic • Vegetarian, Vegan.
Customer Reviews on Trustpilot