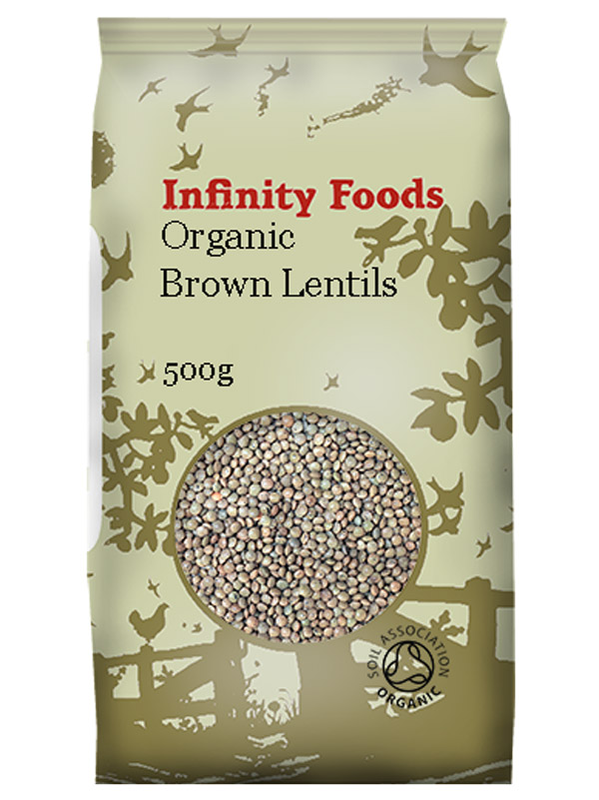 Lentils: Whole Brown Lentils, Organic 500g (Infinity Foods)
Whole, Organic Brown Lentils 500g
Organic produce.
Use in a multitude of dishes or on its own.
Takes approximately 30 minutes to cook.
High in protein.
No soaking required.
500g pack (half-kilo).
Brown lentils are smaller and rounder than green lentils. They are popular in Asian cuisine and fill out curries, stews and soups very well. Brown lentils retain a firmer shape unless cooked for too long.
Cooking Brown Lentils
Prior to cooking, rinse the lentils of any debris. There is no need to soak them, just gently simmer in water for 30 minutes (15 minutes in a pressure cooker). Cooking times may vary if lentils are added to a liquidy dish without pre-cooking them. In that instance, you may have to leave your sauce or soup gently bubbling for much longer until the lentils are ready. Taste every 10 minutes to monitor the consistency.
Boiling down lentils until they are mushy is a good way to thicken soups and sauces. It is actually a matter of taste as to how long you cook them for.
Lentils can be added to many dishes and work well with chicken or fish or in a thick vegetable curry. Alternatively, lentils could be mixed with other beans in a mixed salad and seasoned with lemon juice, garlic and herbs.
Brown lentils (whole, organic).
Organic • Vegetarian, Vegan.
Customer Reviews on Trustpilot