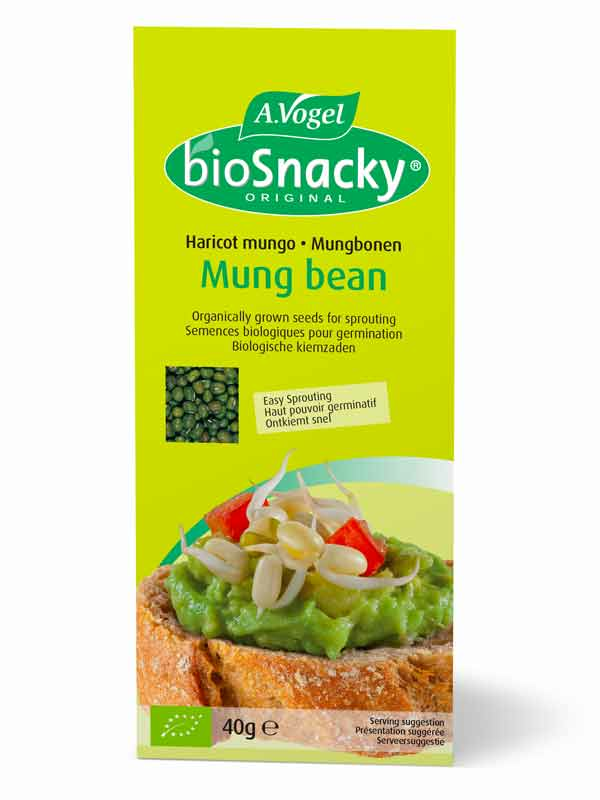 Bioforce Mung Bean 40g (A.Vogel)
The Mung Bean is probably the first sprouted 'seed' that most people have eaten, without even realising it. Chinese bean sprouts, common in stir-frys and spring rolls are actually mung sprouts that have grown on just a little further than ones that are usually eaten as part of a sprouting mix. Mung Bean sprouts contain the following vitamins: A, B1, B2, B3, B12 and vitamin C. In addition to this there is plenty of iron, potassium, calcium, magnesium and phosphorus. This really makes it an essential bean to include in a healthier diet.
Contents of Pack
Organically grown, non-GM Mung Beans. (Store in a cool, dry place out of direct sunlight.)
Instructions for Use
Before sowing, rinse thoroughly in fresh water. For best results sow seeds thinly. Use around one-and-a-half tablespoons per jar or tray. Rinse the seeds twice a day whilst germinating. Germination time may vary with room temperature. Harvest once the seed has produced a significant length of stem or after 3-5 days. See photograph on packet for guidance. This 40g pack should provide enough seed for around two or three harvests.

Organic • Vegetarian, Vegan.
Customer Reviews on Trustpilot