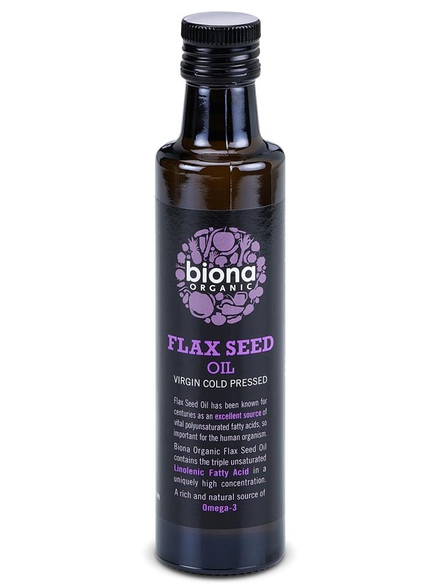 Flax Seed Oil, Organic 250ml (Biona)
Cold-Pressed and Unrefined Flax seed Oil
Certified Organic
Vegan friendly
Great source of Omega 3 essential fatty acids
A slightly sweet, strong nutty flavour.
Cold-pressed using OmegaExtra pressing method
Biona's Flaxseed Oil is cold-pressed and unrefined using the OmegaExtra pressing method. This style of extracting is done using a special press: this protects the oil from contact with oxygen and light.
We do not recommend heating flax oil, as it is designed to be consumed cold and heating would destroy the nutritional properties.
Directions:
Drizzle onto salads, pastas or pizzas. Alternatively you can add to smoothies or take as a supplement.
You might also like...
Flax Seeds (Linseed)

You can get the benefits of flax seed oil by eating whole flax seeds, which contain the oil. Flax seeds can be sprinkled into breads, muesli, yoghurt and more for an excellent omega-3 boost.

---

Essential Daily Balance Oil, Organic 250ml (Biona)

A mixture of flax seed oil, hemp oil, sunflower oil, evening primrose oil, pomegranate oil, pumpkin oil and sesame oil.
Ingredients:
100% organic flax seed oil.
Nutritional Information
| Typical Values | Per 100g |
| --- | --- |
| Energy | 900kcal |
| Protein | <0.1g |
| Carbohydrate | <0.1g |
| _of which sugars | <0.1g |
| Fat | 92.76g |
| _of which saturates | 8.94g |
| Mono-unsaturates | 15.88g |
| Polyunsaturates | 67.94g |
| _of which Alpha Linolenic Acid | 52.83g |
| _of wich Linoleic Acid | 14.93g |
| Salt | <0.1g |
Organic • Vegetarian, Vegan.
Related Categories

---

Flax Seeds (Linseed)
Oil
Seed Oil
Flaxseed Oil
Biona Oils Vinegars
Biona Condiments & Cooking Ingredients
Biona Whole Range
Customer Reviews on Trustpilot
Product Recommendations
---