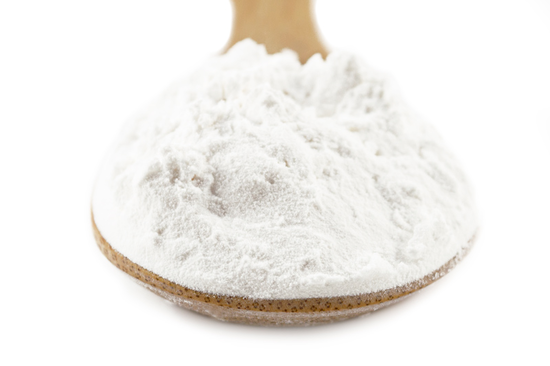 Arrowroot powder can be used to thicken sauces
and to make custard and blancmange.
Last Batch 105792 Produced on Tue 10 May 2022 14:40. Best before End Feb 2024. Produce of Brazil. Packed in the UK.
Arrowroot Powder 250g (Sussex Wholefoods)
Powdered Arrowroot
Natural, plant-based thickener.
Traditionally used to thicken savoury sauces.
Use for thickening custard and batter.
Used in blancmange-like desserts.
Packed in the UK.
250g pack.
Arrowroot is made from extracting the starch from the rhizomes of the
Maranta arundinacea
and is popular in Chinese cuisine for thickening sauces, such Sweet 'n' Sour Sauce. Arrowroot does not affect the taste of the dish and this makes it a more versatile thickener than say flour.
Instructions for Use
For a savoury sauce:
Mix a few teaspoons with cold water into a milky consistency and gradually add to the pan. It is best to remove the wok/frying pan/saucepan from the heat first to prevent clumping.
For desserts: Use 2-3 tablespoons of arrowroot powder per pint of liquid. Desserts can be made with milk, fruit juice or water, flavoured with fruit powder and natural sweeteners. Heat the liquid gently until it just comes to a gentle bubble, leave to cool and allow to set in the fridge.
Ingredients:
Arrowroot.
(Last Batch packed: produce of Brazil).
For more information on our ingredients policy please see here
Vegetarian, Vegan. Packed in a factory that also handles nuts, soya, sesame, eggs, milk, mustard, celery, wheat and gluten.
Customer Reviews on Trustpilot
Product Recommendations