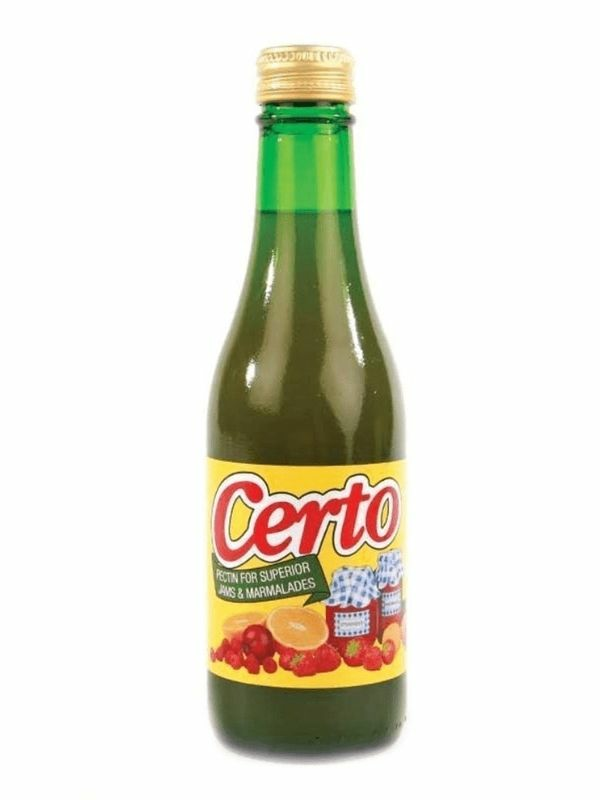 Certo Pectin 250ml
Apple Pectin - for Jams and Jellies
Thickening agent for jams, jellies and other desserts.
More effective than using sugar alone.
Made from apples.
Enough to make around 5kg of jam.
Certo Apple Pectin Extract
is normally used to thicken jams, marmalade and jellies. It contains the natural sugar-based molecules in the fruit which set together and thicken much more effectively than using sugar alone. This means that you can make jams, marmalades and other preserves using less sugar than with traditional jam recipes.
Directions
Pectin is typically used to make jam. A typical recipe requires 1kg of fruit, 3 tablespoons of lemon juice, 1.4kg of sugar and half a bottle of Certo Pectin. Crush the fruit and place in a large pan with the lemon juice and sugar. Heat slowly until the sugar is dissolved. Add a small amount of butter to reduce foaming before bringing to the boil for 2 minutes. Remove from heat and stir in half a bottle of the pectin. Skim if necessary. Cool and put into pots.
Water, Pectin Extract Solids (10%); Acidity Regulator: Potassium Citrate; Preservative: Sulphur Dioxide.
Customer Reviews on Trustpilot