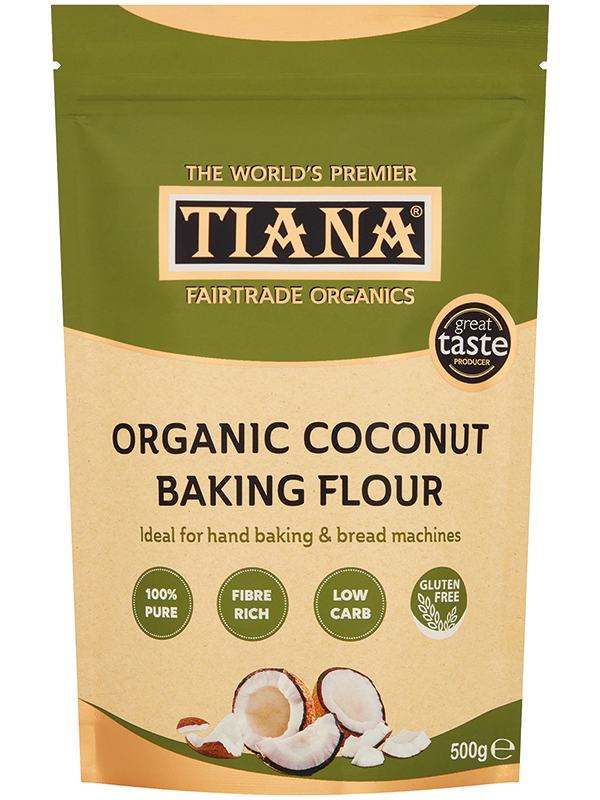 Organic Fair Trade Coconut Flour 500g (Tiana)
Fair Trade, Organic Pure Coconut Flour
For gluten free, wheat free, low carb, high fibre cooking and baking.
Helps to raise and expand baked goods.
Improves your digestive health.
Low GI - Assists blood sugar regulation and helps lower cholesterol.
Suitable for diabetics and coeliacs.
Suitable for weight management.
Re-sealable pouch.
This coconut flour has a mouth watering sweet fragrance similar to the aroma of macaroons (light almond & coconut bicuits).
Tiana Coconut Flour is a fine, 100% pure flour that allows you to bake high quality, gluten free, low carbohydrate foods. This flour is high in fibre and expands during baking, often increasing in size by up to 50%. Coconut flour is also very low in carbohydrates and low GI (Glycemic Index) which makes it suitable for those who want to watch their weight or are affected by diabetes.
Directions
Coconut flour can be used as normal flour (e.g. to make bread), or as a substitute for almond powder in macaroons. To make macaroons, mix this coconut flour with icing sugar (if you do not have icing sugar, you can simply whizz normal sugar in a blender until it reaches a fine consistency). Next, fold in some whisked egg whites until the mixture reaches a fine consistency, adding sugar to taste. Pipe onto a baking sheet and leave to set for 15 minutes before baking for 10 minutes.
There are two recipes on the packet for cookies and muffins that use only this coconut flour. To make the cookies, melt coconut oil into a pan and stir in cocoa powder before leaving to cool. Mix eggs, sugar, a dash of vanilla extract and a pinch of salt into a bowl and stir in the cocoa mixture. Stir in the coconut flour and whisk into a smooth batter. Leave to rest for 5 minutes before spooning onto a baking sheet. Bake in a preheated oven at 175 degrees Centigrade (Gas Mark 4) for around 15 minutes. The muffin recipe is quite similar, but it also contains coconut milk, raisins and walnuts.
Organic Coconut Flour. (100% fair trade)
Free from: Gluten, Wheat, Dairy, nuts and sulphites.
| Typical Values | Per 100g |
| --- | --- |
| Energy | 443 calories |
| Protein | 17.4g |
| Carbohydrates | 21.7g |
| _of which sugars | 6.8g |
| Fat | 15.1g |
| _of which saturates | 14g |
| Cholesterol | 0g |
| Trans-fat | 0g |
| Fibre | 37.6g |
| Sodium | 0.2g |
| Calcium | 50mg |
| Iron | 11.8mg |
Organic • Vegetarian, Vegan.
Customer Reviews on Trustpilot