Use sprouted quinoa just like regular quinoa.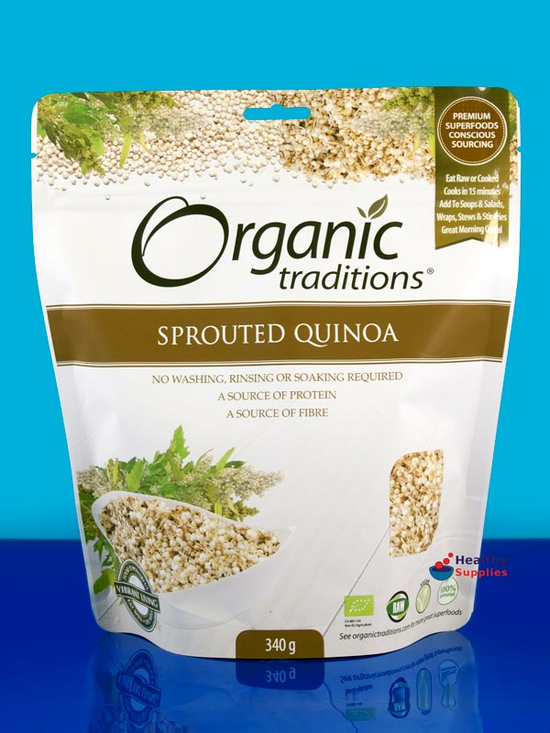 Sprouted Quinoa, Organic 340g (Organic Traditions)
Organic 100% Cold Milled Sprouted Quinoa
Eat raw or cooked.
Cooks in 15 minutes.
No washing or rinsing required.
Good source of protein and dietary fibre.
Add to soups, salads, wraps, stews and stir fries.
Organic Traditions' Sprouted Quinoa is a fantastic way to introduce sprouted grains into your diet. Sprouted Quinoa is not only a superfood loaded with incredible nutrition, it is delicious to eat and easy to digest. Sprouting unlocks the nutrition in the seed, significantly increasing the vitamins, minerals and enzymes. Low temperature air drying ensures that the nutrients stay intact.
Directions:
Use a ratio of 1:1 quinoa to water. Boil 1 cup of water, reduce heat to a simmer and add 1 cup of quinoa. Simmer for 15 minutes until the water has been absorbed.
Ingredients:
Organic Sprouted Quinoa Seeds (100%).
For more information on our ingredients policy please see here
Made in Toronto, Canada.
Nutritional Information
Typical Values
Per 100g
Energy
378kcal
Protein
16g
Carbohydrate
62g
_of which sugars
2.2g
Fat
5.6g
_of which saturates
0g
Fibre
8.9g
Salt
0g
Organic • Vegetarian, Vegan.
Customer Reviews on Trustpilot