Dulse, sea lettuce and nori. Ready to eat!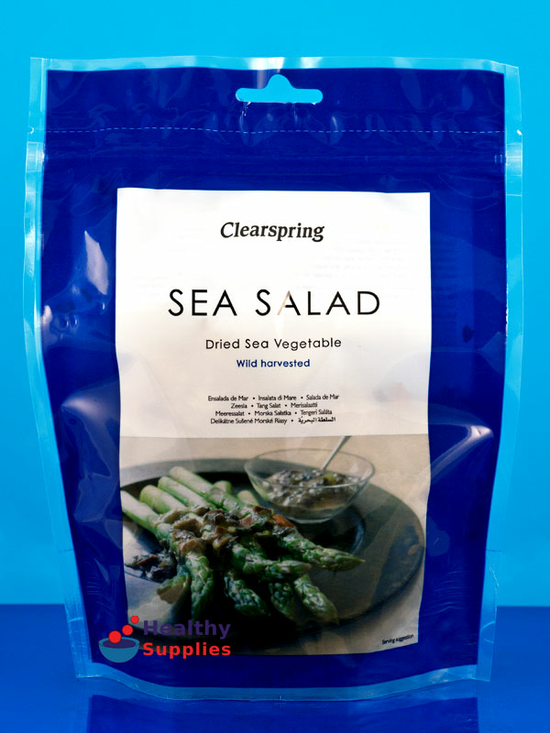 Clearspring Seaweed Salad Mix 50g
Dulse, Nori and Sea Lettuce
Ready to eat: no need to soak!
Use in salads or sandwiches.
Can be eaten hot or cold: no need to cook!
A tastier, more nutritious alternative to lettuce.
High in protein, minerals and fibre.
This ready to eat seaweed mix is made from Dulse, Sea Lettuce and Nori, harvested wild in Brittany, off the Atlantic coast of France. This is ready-soaked and can be simply sprinkled into salads. Ideal for lunch!
This seaweed mix, like most seaweed, is rich in minerals, and fibre. This mix is particularly high in protein.
Directions
This sea salad is ready to eat and does not require any soaking or cooking. Simply sprinkle into salads or use as an topping, accompaniment or side dish.
You can also mix this sea salad into soups or stir-fries, or even eat it on its own as a snack. Try it in sandwiches as an alternative to lettuce.
You might also like to try...
Ingredients:
Dried seaweed (sea vegetables): dulse dulse (species: Palmaria palmata), sea lettuce (species: Uva lactuca), nori (species: Porphyra tenera).
For more information on our ingredients policy please see here
Nutritional Information
| Typical Values | per 100g |
| --- | --- |
| Energy | 133kcal |
| Protein | 23.0g |
| Carbohydrate | 9.2g |
| of which sugars | 0.9g |
| Fibre | 40.5g |
| Sodium | trace |
| Calcium | 450mg |
| Magnesium | 1118mg |
| Iron | 54.6mg |
Vegetarian, Vegan.
Customer Reviews on Trustpilot
Product Recommendations