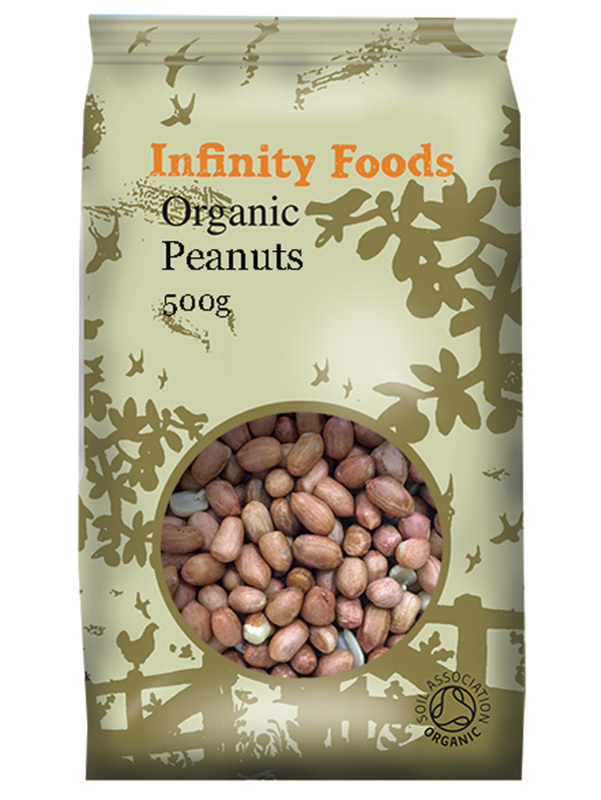 Peanuts, Organic 500g (Infinity Foods)
Unsalted peanuts. Organic and unpolished.
Unsalted, not roasted and not polished.
Just organic peanuts!
Full of protein.
Can be eaten on their own, used in recipes or blended to make peanut butter.
These organic peanuts are free from salt, and still have the "skins" on (but not the shell), making them high in fibre. In addition, these peanuts are not roasted - meaning that vital nutrients are left intact.
Peanuts are an excellent source of niacin, folate and protein.
Directions
These peanuts are often eaten as a healthy snack (as they do not contain salt), and have many other uses too. They are particularly useful in recipes, particularly oriental stir-fries and other Far-Eastern cuisine.
These peanuts make the ideal satay peanut dipping sauce. Blend peanuts together with chillies, lemon juice, garlic, tamarind, onion, ginger and a little soy sauce. Sweeten with honey or coconut palm sugar.
Simply put these peanuts into a blender in order to make the ideal pure peanut butter! Blend into a smooth or crunchy consistency according to taste.
Organic Peanuts 100%. Produce of China.
| Typical Values | per 100g |
| --- | --- |
| Energy | 564 calories |
| Protein | 25.6g |
| Carbohydrates | 12.5g |
| of which sugars | 6.2g |
| Fat | 46.1g |
| of which saturates | 8.2g |
| Fibre | 6.2g |
| Sodium | Trace |
Organic • Vegetarian, Vegan.
Customer Reviews on Trustpilot