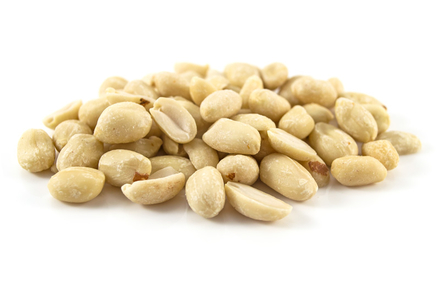 Last Batch Produced on Thu 7 May 2020 11:57. Best before End Oct 2020. Produce of China. Packed in the UK.
Blanched Peanuts 1kg, Basics (Healthy Supplies)
Blanched Peanuts 1kg
Peanuts, shelled and blanched.
Not roasted.
Plain, no salt.
No oil.
A mix of halves & whole peanuts.
Snack on or use as an ingredient.
1kg pack.
These peanuts can be eaten as is or you can dry roast them gently under the grill. Try whizzing up in a blender to make your own peanut butter or base for a Satay Sauce, or just add directly to your pan in a stir-fry.
Peanuts are frequently used in Vietnamese cooking, for example in sauces, spring rolls and of course in the form of Peanut Oil (Groundnut Oil).
Ingredients:
Unroasted Peanuts.
Country of origin may vary (Last Batch: produce of China).
For more information on our ingredients policy please see here
Nutritional Information
| Typical Values | Per 100g |
| --- | --- |
| Energy | 563kcal |
| Protein | 25.6g |
| Carbohydrate | 12.5g |
| _of which sugars | 6.2g |
| Fat | 46g |
| Fibre | 6.2g |
| Sodium | 2mg |
Vegetarian, Vegan.
Related Categories

---

Peanuts | Healthy Supplies
Peanut Halves & Whole
Healthy Supplies Nuts
Customer Reviews on Trustpilot
Product Recommendations
---